Environmental Management Field Trips
Tiritiri Matangi
Often the highlight for our first-year class is the trip to Tiritiri Matangi island, a unique predator-free island in the Hauraki Gulf.
The trip gives students the opportunity to get up, close and personal with many of New Zealand's endemic bird species. We carry out a range of bird identification surveys, seeing rare birds such as kōkako, riflemen, fernbirds, saddleback and hihi.
Students also characterise the behaviour of birds such as takahē. During the four-day stay on the island, there is also the opportunity to see kiwi at night, spot tuatara basking in the sun and explore the many tracks and coves of the island.  
---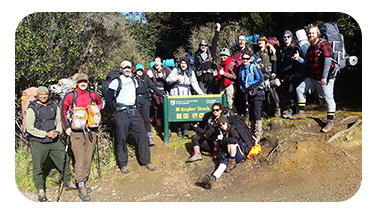 South Island
The highlight for our students over the last eight years has been the second-year (Level 6) field trip to the South Island for their advanced biosurveying course. Students travel the length of the country to get an appreciation of the variety of ecosystems in New Zealand and in particular the larger, harsher landscapes of the South Island.
These trips change year to year as we try and work with DOC and/or other organisations to survey where our data will be of value to NZ's conservation program. Past highlights of this trip have included discovering a long-tailed bat population in the Iris Burn Valley, surveying kiwi on the Kepler track, counting kea in the Matukituki Valley and visiting Milford Sound.
---

White Island
For the 'Geology of New Zealand' paper, our students, weather and volcanic conditions permitting, travel to New Zealand's most active volcano, Whakaari (White Island).
Students spend the day taking a guided tour to learn about this fascinating geological phenomenon.
We explore the geothermal system and learn about the geological events that have shaped and continue to shape the island.
On most trips, we're lucky enough to see some interesting marine life on the boat trip to and from the island!
---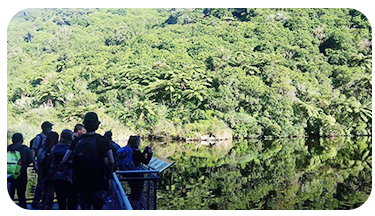 Wellington
On this five-day field trip, students get the opportunity to explore two ecological restoration projects. First, we visit the beautiful Kāpiti Island, New Zealand's first and largest island restoration project. Here, students learn about the natural history of Kāpiti and the strategies that have been used to restore the island to its former glory. Students can explore the island by examining endemic flora and fauna, such as kākā and hihi.
Students have the opportunity to walk up to the summit of the island, which boasts 360-degree views of Kāpiti and the Tasman sea. We also visit the Zealandia Ecosanctuary, the world's first fully-fenced urban ecosanctuary, for a guided tour.
In addition, students get to go behind the scenes at Te Papa Museum to check out their impressive botanic and animal collections. Finally, we pay a visit to the offices of Goodnature to find out more about the latest predator traps that are being created to help in New Zealand's fight to become predator free.
---
Biosurveying in various North Island locations
Our first year biosurveying field trip locations change each year, as we try and do work alongside or in collaboration with a range of conservation organisations throughout the North Island. However, students generally have a few days introduction in Coromandel in February, followed by a week-long trip to the central North Island in March and finally a three -to five-day trip to a wetland in September.
Recent trips have included monitoring kiwi in the Ruahine ranges, surveying heather on the side of Mt Ruapehu, counting the nationally critical bittern in the Kopuatai Peat Dome and searching for blue duck near Ohakune.
Alongside learning monitoring techniques of New Zealand's unique flora and fauna, students also gain experience in navigation, river crossing, risk management and equipment selection and maintenance.
---
Local field trips for Waste Management
Students will get to go on a number of half-day and full-day field trips to observe waste management in action. Students go behind the scenes at Bayfair Shopping Centre to see how a commercial business is incorporating zero waste principles to minimise their environmental impact.
We visit Te Maunga Transfer Station, one of the two transfer stations operating in Tauranga. Here, students can learn more about the process of diverting rubbish to be recycled. Students also visit the materials recovery facility, where recycling is further sorted and baled for transport. Students are taken to Tirohia landfill where they can learn more about what happens to waste that is not recycled – an eye-opening experience!
We visit the drinking water treatment plant in Oropi to explore how the catchment that supplies Tauranga city with drinking water is protected and the water is treated with microfiltration technology. Finally, we take students to the Rotorua Waste Treatment Plant, where they use a five-stage Bardenpho process, the first full biological nitrogen and phosphorus process used for municipal wastewater in New Zealand.
---