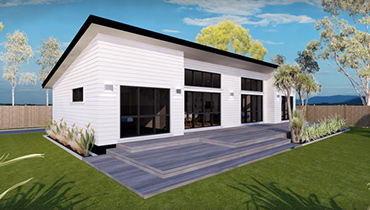 The Charity House project began in 2013 and is a ten year training and partnership programme. It's become part of our ethos – providing students with hands-on learning opportunities while benefiting the wider community.
One house per year is built by Toi Ohomai's carpentry, electrical and interior design students with the support of the business community, and then auctioned off with the proceeds going to Rotorua community groups.
Toi Ohomai partnered with the Rotorua Chamber of Commerce, Rotary Rotorua Sunrise Charitable Trust and the Rotorua Lakes Council to launch the project and worked together in collaboration to gain support from local building suppliers, tradesmen and professionals.
Key objectives of the Charity House have been to create healthy living environments and energy efficiencies. The house is fully insulated to twice the building code requirements, meaning the frames are wider to allow for high insulation values, thereby creating energy efficiencies. This will result in lower power bills for the purchaser!
In 2017 we introduced the air tight system "Intello" by Pro Clima NZ Ltd, a moisture control system combined with a balanced pressure heat transfer ventilation system from DVS. These two factors make the house hugely more valuable and provide for greater quality of life – a warm, dry and healthy home.
Read more in the Charity House brochure (pdf, 3.3MB)
Read the news story about the 2017 Charity House auction
Work-ready Students
Carpentry, electrical and interior design students benefit from the hands-on learning experience, providing an excellent understanding of residential dwellings through working on the project from start to finish. It provides them with a great foot in the door to the building, construction, electrical and design industries. The construction of the houses is being undertaken by students studying:
•    New Zealand Certificate in Construction Trade Skills (Level 3), strand in Carpentry
•    New Zealand Certificate in Electrical Engineering Theory (Level 3)
•    Bachelor of Creative Technologies
Interior design students are involved with the overall interior design, including the kitchen and bathroom designs, selecting floor coverings and the colour palettes for both the interior and exterior of the house.
Transportable Dwellings
Each three-bedroom house features a master bedroom with ensuite, open-plan kitchen, dining and lounge. The houses are transportable making them ideal for first home buyers, baches, investment properties, homes on farms, a second home for extended family, retirement homes and many other options. The Rotorua Thermal Holiday Park, which borders Toi Ohomai Mokoia Campus is the build venue.
Thanks to the Generous Support ...
The Charity House Project would not be possible without the support of our partners mentioned in the flyer below. On behalf of the Toi Ohomai, thank you for your valuable contribution, current and pledged. We look forward to sharing the goodwill and satisfaction generated through education and community involvement.
Partners of Charity House (pdf, 262kb)
Recipients
2016 Charity House proceeds of $41,459 were awarded in 2017 to:
Age Concern Rotorua District Inc
Alzheimers Rotorua
Aratika Cancer Trust
Citizens Advice Bureau
Eastern Suburbs Pre-School Charitable Trust
Kidscan Charitable Trust
Kiwi Can Programme, Rotary Club of Rotorua North
Mokoia Community Association
My Future Rocks
Ngongotaha Community Patrol
One Chance Charitable Trust
Parkinson's Central Plateau Division
Rotorua Children's Art House
Rotorua Community Menz Shed Trust
Rotorua Community Youth CentreTrust
Rotorua Emergency Response Team
Rotorua Hospital Chaplaincy Trust
St Vincent De Paul Society
Waiariki Women's Refuge
Western Heights Community Assn
Work Matters Trust
Applications for funds from the 2017 auction will be available early 2018 through Rotary Rotorua Sunrise.