Health and Wellbeing
Your health - mental, physical, and spiritual - is important, especially when you're juggling study with other demands in your life. We offer a wide range of services to help support your health while you're studying here with us.
Toi Ohomai Campuses are Smokefree
Toi Ohomai promotes an environment that's safe and healthy for all students, staff and visitors, and protects the right of everyone to breathe in clean air. In order to support the New Zealand government's goal to become a smoke-free country by 2025, all Toi Ohomai campuses proudly became smoke free on World Smokefree Day, 31 May, 2014.
Our health centres provide free support for students and staff who want to quit smoking. Come and see us!
For more information visit the Smokefree information website.
Chaplain at Tauranga Campuses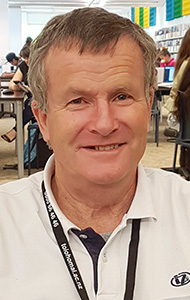 Norman Sutton is our voluntary campus chaplain in Tauranga. He previously provided chaplaincy services at Manukau Institute of Technology. He's a member of the Aotearoa New Zealand Tertiary Chaplaincy Association.
What is a chaplain and `what do they do?. Well, Norman describes it as a combination of pastoral carer and a kind of `spiritual guide'.
"My role is to get to know students (despite the age gap!) and encourage them to think about the `spiritual quadrant' of their lives. Hopefully, this will help them develop holistically so that they're better equipped to handle the challenges that they will inevitably face in life (education is not just about the cerebral!)"
Norman is at Bongard Centre and Windermere Campus, mostly between noon and 1.00pm and can be contacted on 027 533 4127.
Equity/Disability Support
We offer a range of support services and equipment. Find out more on our equity/disability support services.
Health Centres
We have health centres at Mokoia Campus in Rotorua and Windermere Campus in Tauranga, where a kaitiaki nurse will be your first point of contact for any concerns or issues you have.
All our services are completely confidential, and most of them are free.
Prayer Rooms
Our prayer rooms are open to everyone and are accessible by swipe ID card 24 hours, 7 days a week, except for shutdown periods.
Bongard Centre: Room DT114A which is on Level One inside room DT114
Mokoia Campus: Room E24
Windermere Campus: Room L5 (opposite Ako Atea and across the little road, on the corner).
Sport and Fitness
Staying active helps your health - physical and mental - in so many ways. Check out our awesome sport and fitness options!
Tangatarua Marae at Mokoia Campus
Tangatarua Marae is named after a Túhourangi ancestor, Tangatarua. The marae is a truly beautiful space, and once you've been welcomed with the pohiri at the start of your studies, is available for you to visit whenever you wish.