Dylan Austin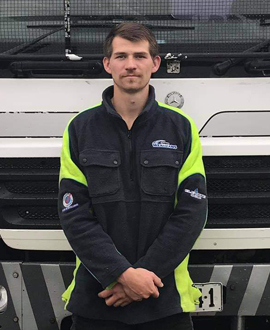 A broken ankle prompted Dylan Austin to switch from driving a digger in the bush to getting behind the wheel of a heavy truck. 
"I came back after six weeks' leave and couldn't push the foot pedals of the digger because I'd lost muscle. Trucks were quite interesting and I decided I'd give that a go instead." 
Dylan finished a cadetship in transport and logistics, earning his New Zealand Certificate in Commercial Road Transport (Heavy Vehicle Operator) (Level 3), and has been driving ever since.  
As part of the cadetship, Dylan was able to work while earning his class 2, 3, 4 and 5 licences. The latter allows him to drive a truck and trailer unit with a combined weight up to 25,000kg. He's also obtained his dangerous goods endorsement and forklift licence.
He says driving big rigs was daunting at first. 
"I was quite nervous at the start of it, just due to the size compared to a vehicle or car trailer or ute. They [the tutors] really sit down with you and work out what you should be doing."  
Dylan says book work and computer work aren't his strengths, but the tutors and other students encouraged him to succeed: "You're not on your own. Everyone helps out in the classroom."
He's been working for a Bay of Plenty trucking company for the past six months and says the experience he got at Toi Ohomai helps him at work every day. 
"My boss was quite happy and he started looking for more students that went through the same course. If you're looking to get into the trucking industry, I highly recommend going to it [the Toi Ohomai programme] because of the one-on-one learning you get. You get experience from the get-go, but you're not chucked into the deep end. It's a lot harder than you think - it's a lot more than just driving."
The cadetship programme is a joint effort between Toi Ohomai, the Freight and Logistics Action Group and industry partners. 
Find out more about this subject