Whakatāne Beekeeping Success Inspires Rotorua Course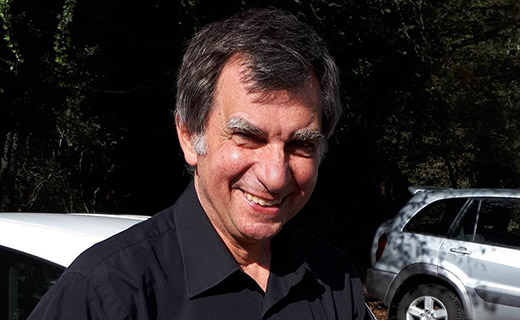 Thursday, 09 May 2019
You know when you get one of those teachers that just makes things make sense? Well, Toi Ohomai Institute of Technology's beekeeping tutor, Omar Martinez, is one of those.
In fact, when Omar was tutoring the beekeeping course in Whakatāne last year, he came across Gabriel Merito and his granddaughter Sandra Merito-Allen, who both wanted to do the course. Gabriel is 82 and he had not long recovered from a heart attack so his family wasn't too keen on him enrolling. 
So, Gabriel would just visit instead and shoot the breeze with Omar. When the course wound up, Omar was presented with a carved bee that had been organised by Gabriel. The Whakatane class had been in communication with Gabriel because they wanted to get something special for Omar as a sign of their gratitude and respect. 
The wooden bee wears a korowai and is adorned with pieces of paua shell representing each member of the class, with the large one depicting Omar.
On the back of the successful delivery of the course at Whakatāne and Toi Ohomai's Windermere Campus in Tauranga, the institute will offer the course in Rotorua for the first time from July. Omar will also deliver a second course from the Windermere Campus.
Group Manager Primary Industry Shelley Rose says the decision to add another study location to the mix was also to give those in Rotorua with an interest in apiculture a chance to learn about beekeeping.
"Apiculture is a programme that is very popular so we have decided to rotate it around between campuses so that everyone gets an opportunity to participate in a class close to home."
The subject will be taught by tutor and expert apiarist Omar Martinez, and the course for the July intake will run until April 2020.
Omar says honey and beekeeping is big business in New Zealand, and this course will give students the basics they need to start out in the industry.
"By the end of it students will have their beehive they build up with bees, bee suit, hive tool, smoker and gloves.
"Once they finish this programme, they will be able to work under limited supervision in a commercial beekeeping operation, or independently in a small scale operation or a lifestyle option."
The course will cover the basics of beekeeping including how to maintain, manipulate and operate beehives to produce quality products and pollination services, as well as knowledge in assisting to transport beehives and bee products, and establish hives in new sites.
Students will be required to carry out a beehive disease management plans, take care of apiculture equipment, understand procedures for checking hives, and be able to construct and repair hives.
They will learn about bee lifecycle and behaviour, bee nutrition and feeding, bee fodder crops, including toxic plant risk, tutu and tutin contamination risks, re-queening hives, swarm control, wintering down beehives and wintering maintenance of beehives.