Toi Ohomai Celebrates High Performance Scholarship Recipients at Awards Luncheon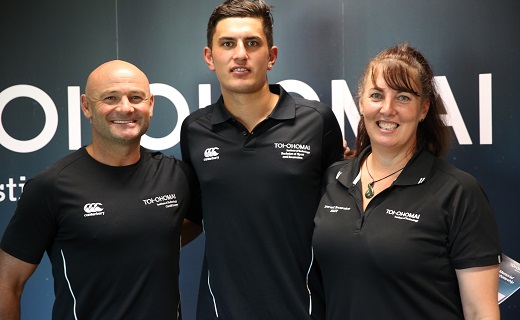 Tuesday, 12 Mar 2019
Toi Ohomai's 2019 scholarship recipients were welcomed at an official awards luncheon in Tauranga on Monday, 11 March.
The High Performance Sports Academy awards lunch is an annual event organised by Toi Ohomai to congratulate and celebrate the achievements of our sports scholarship winners. 
Each year, multiple high-performing sports stars are selected for their achievements and awarded our High Performance Sports Academy Scholarship, which is aimed at helping them follow their passion and achieve their career goals. 
One student is also picked for the Howie Hinton Memorial Scholarship, which is a reward dedicated to the late Howie Hinton and is picked by the Hinton family.
This year's scholarships were awarded to:
•    Samantha Spence (Rugby) 
•    Eleanor Tomkins (Swimming)
•    Leon Castle (Surf Lifesaving, Water Polo and Rugby)
•    Reef Cooper (Rugby) – winner of the Howie Hinton Memorial Scholarship
"We received a lot of really high-calibre applications this year and are proud to have such a group of talented individuals representing our Institute wherever their success takes them," says Scholarship Manager Mike Dudson. 
"It's a privilege for us to play a part in helping these students reach their goals and to help pave their way to success."