Toi Ohomai And Unitec Collaborate On Rain Forest Experience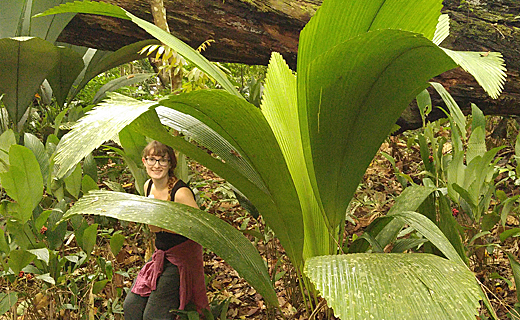 Wednesday, 20 Jun 2018
Bay of Plenty students could soon be adding jungle experience to their CVs, thanks to a collaboration between Toi Ohomai and Unitec Institute of Technology. 
From next year, Toi Ohomai students studying the NZ Diploma in Environmental Management (Level 6) can choose to spend two weeks in the Borneo Rain Forest as part of a Tropical Ecology course offered through Unitec, and have it credited to their qualification. 
Toi Ohomai lecturer Lisa Denmead travelled with the group on this year's field trip in April. As a tropical ecosystem she said it offers immense diversity and completely different learning conditions than what the students are used to.
"It's an amazing trip that you couldn't do yourself as a tourist. The students get the opportunity to work in some of the best rain forest in South East Asia and visit international research field stations to look at the effects of land use change. We're really excited to be working with Unitec on this."
Several NorthTec students also join the annual fieldtrip, which Unitec has run since 2013. Unitec senior lecturer Dr Glenn Aguilar said the expedition offers a unique opportunity to collaborate with other institutes. 
"It has always been a positive experience for the students and they often want to go back. They're exposed to a jungle environment, endangered species and different research methodologies which have strengthened their area of study and their awareness of conservation." 
Many former students have gone on to work in conservation-related fields, he said.
Toi Ohomai Environmental Management student Mary-Anne Goodin chose to join the trip this year, even though she had to take it as an additional paper before the formal cross-crediting arrangement starts next year.
She said she still wakes up every morning wishing she was back, immersed in the sights, smells and sounds of the rain forest, and plans to return one day as a post-graduate research student for an extended stay.
"I miss it every single day, the environment and the work I could be doing," said Mary-Anne. "I can see myself doing more research there because I want to do something that would actually make a difference to the planet. It was such a rare chance to experience some of the most pristine and most diverse rain forest in the world."
The group of six students spent time in the pristine Danum Valley, where they carried out invertebrate, bird and plant surveys, and later climbed the ridge of the Maliau Basin to reach a pitcher plant field. Both sites are some of the most pristine protected areas of Bornean rain forest and scientists go there to study the ecology and conservation of a critically endangered ecosystem.  
While the rain forest is protected, deforestation in Borneo – for palm oil production – has caused massive habitat loss, Mary-Anne said.
"We're never going to get it back. I want to be involved in research to understand what impact that is having on wildlife." 
At the moment Mary-Anne is leaning towards invertebrate research saying there is still so much to learn – especially about insects and the positive impact they have on the environment.
"I think insects are underrated and unappreciated, but they provide an important function in the forest, like in decomposing fallen trees. I found the millipedes really interesting, and like most insects in the rain forest they are so much bigger than what we are used to, often more than double the size.
Leeches, snakes, chirping geckos, red leaf monkeys and macaques were also a new experience, as was the rain forest climate – high humidity, torrential downpours during the afternoon and thunder and lightning at night. "It created a really moody atmosphere," she said.
Toi Ohomai students studying the New Zealand Diploma in Environmental Management (Level 6) – Terrestrial or Marine Strands – will have the option of signing up for the Borneo trip in April 2019.