Sustainability Market Hailed as a Success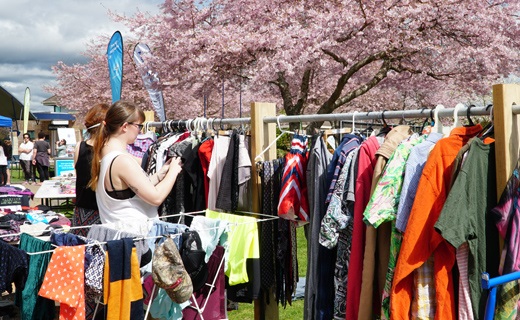 Tuesday, 02 Oct 2018
Environmentally-conscious consumers flocked to Toi Ohomai's first sustainability market last week to play their part in protecting the world's resources.
The market, which coincided with Conservation Week, included stalls selling everything from multi-use straws, menstrual cups and second-hand clothing to electric bikes and fresh produce.
Marine and environment management academic staff member Lisa Denmead says the market was a success, with stall holders loving the chance to engage with the public.
"We estimate approximately 400 people came through the market over the two hours, including Toi Ohomai staff and students as well as a lot of general public. It was great to have so many visitors on our Windermere Campus. And being able to show them how we value and practice sustainability, as well as the courses we offer in this space.
"It was awesome to see our current environmental students getting involved with the Rags for Tags stall and a waste/recycling game and also our culinary arts students, who prepared and served soup to market goers with rescued food from Good Neighbour."
She says it was also good to see so many former students attending to represent their employers, including Anna Dawson from the Bay of Plenty Regional Council, Department of Conservation ranger Paranini Lovett and Hamiora Gibson from Good Nature.
More information on employers represented at the sustainable market: