Rotorua Charities Receive Money from Charity House Sale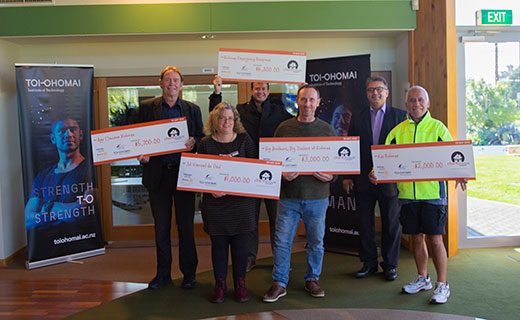 Tuesday, 29 May 2018
Five Rotorua charities received a share of $18,000 today as the proceeds from the Toi Ohomai Charity House sale were given out at a lunch at the Mokoia campus.
The Charity House is built by carpentry students from start to finish as part of the curriculum, with Toi Ohomai partnering with Rotorua Sunrise Rotary for the project. Now in its sixth year, the project has given over $100,000  to local charity groups.
Brian Dillon, Faculty Leader Trades and Logistics, said not only does the project allow Toi Ohomai students hands-on experience, it also meets a greater need to serve the community.  
"The lack of adequate housing is a topic on everyone's minds. With this project we are providing the community with a brand new quality house, giving money to local charities, and giving students the practical skills involved with building a house from start to finish – so we are meeting multiple needs."
"Our students and staff get a huge sense of pride from being involved in a project like this."
One of the groups to benefit from the funds, Age Concern Rotorua, has will invest its money in some new IT equipment. Manager Rory O'Rourke said that it will purchase iPads with part of their funds, which will enable Age Concern volunteers to assist the elderly with online shopping. 
Big Brothers, Big Sisters of Rotorua will also be using the funds for technology – they'll be buying a new laptop and phone to help with their communications. Mel Davies and Darryl Parker said it's the second time Big Brothers, Big Sisters has successfully won funds from the Charity House.
"Being able to apply for this kind of funding to support our initiative is imperative," said Mel.
The St Vincent De Paul charity will be using its awarded funds to pay for vehicle running costs. Kai Rotorua have been donated a kauri tree to be felled and processed, while the Rotorua Emergency  Response Team will be purchasing a new rescue boat and equipment in time for the busy winter months ahead.
This grassroots project brings together carpentry, electrical and interior design students and staff, along with local tradespeople and suppliers in partnership for the community. 
Building a house from start to finish is part of the student learning for those studying the following programmes: New Zealand Certificate in Construction Trade Skills (Level 3), strand in Carpentry; New Zealand Certificate in Electrical Engineering Theory (Level 3); and Bachelor of Creative Technology.