International Role for Toi Ohomai Social Work Lecturer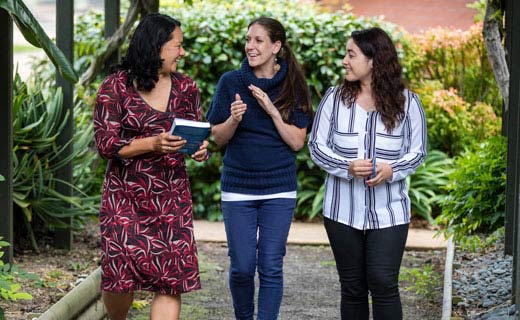 Thursday, 28 Nov 2019
Toi Ohomai Institute of Technology Social Services Lecturer Donna Guy has been appointed to the International Association for Social Work with Groups (IASWG) board of directors becoming the first person New Zealander to do so.
An international association for social workers and allied helping professionals engaged in group work, IASWG promotes excellence in practice, education, field instruction, research and publication.
Donna, who is based at Mokoia Campus at Rotorua, says for 12 years she has been recovering from a spinal injury, which has left her with some permanent damage, but she hasn't let that hold her back
"For my heart, my appointment is monumental. I have always been a very goal-orientated person, who sets high expectations for success. Over the years as I have transitioned from Olympic athlete to a single mum recovering from a significant spinal injury and on to my current role of academic educator and researcher, I have learned it is critical to always have those big dreams and out-there visions. 
"My appointment to the IASWG board of directors is really 'out of the box' and something I had thought about but hadn't quite seen myself as being good enough for. This time six months ago I would not have envisioned being nominated let alone. What a confidence boost it has been!
"As the news sinks in, I realise I am ready for this new pathway. I have always known that a big part of achieving my past dreams or goals is the joy that comes with sharing such achievements with one's family, whanau and community.  Therefore, I am genuinely excited to be in a position in which I can make a difference not only locally or nationally but on a global scale. Like many other social workers and educators there is wide concern about the current  position of our world and specifically what this will mean for future generations."
Donna says her appointment will provide her with a range of resources that will provide benefits for herself, her colleagues and the students she teaches including access to current and relevant resources, curriculum from other universities and IASWG practice standards.
She says she is also keen to explore further opportunities for Toi Ohomai to gain international fieldwork education placements.
"As the first person from New Zealand elected to the IASWG Board of Directors, I look forward to enjoying multiple benefits for Toi Ohomai, the Bachelor of Social Work and students. However, I also hope to be in a position to bring some diversity at a global level. A core mandate of the IASWG , and social work, is to advocate for social justice and work to ensure oppressed peoples and communities, particularly indigenous voices are heard. I believe I can offer my IASWG international peers, not only an international lens but also an indigenous perspective.
"Also my aim, is to expand the IASWG competency standards further than just our Bachelor Social Work degree, rather I aim to create the opportunities for expanding the possibility of group work at a national level and develop a way of ensuring best practice when working with groups and communities.
"Group work and community development are both critical components aspects of social work. Often we're overwhelmed with the stereotypes existing in social work practice, recognising there is more to social work than care and protection."
The role will require her to attend meetings in New York twice a year, with the first held earlier this month. 
At the meeting, the first item on the agenda was for the board to vote on whether to officially recognize the Australia New Zealand chapter as the newest addition to IASWG.
Donna says she spoke on behalf of her peers to support the application after being elected as the representative for the new chapter.
"Over the past 18 months, I have worked in collaboration with several Australian Social Work educators and practitioners from a range of universities to develop and put forward a  proposal for the first IASWG Australia New Zealand Chapter - or aptly named the 'Chapter from Down Under. It is really exciting, we have slowly built some momentum, and in addition to our founding members we have developed a wider network of close to 40 social group workers."