Community Groups Receive $40k from Toi Ohomai Charity House Sale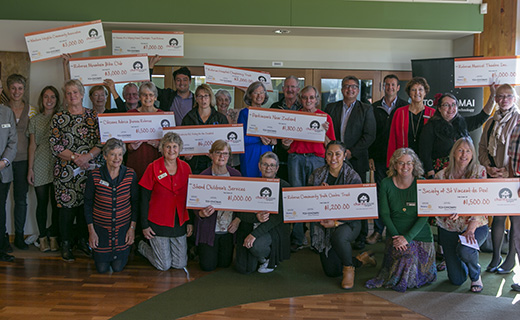 Tuesday, 14 May 2019
Toi Ohomai presented $40,000, raised from last year's Charity House project, to several Rotorua community groups at an event last week.
Among the projects funded were an initiative to help disadvantaged children in Rotorua, a new therapy pony for the city's riding for disabled group and a cellphone to enable medics in the Whakarewarewa Forest to be on call during the week.
Toi Ohomai Council presented the cheques through Chairperson Cathy Cooney, along with Rotorua Sunrise Rotary Club President Rosie Waller. Cathy said this initiative was an excellent example of community collaboration and a testament to our ongoing positive relationships in the area.    
"For us at Toi Ohomai, empowering people and their communities is at heart of everything we do. The Charity House project allows us to provide our students with hands on experience and learning, while also being able to support community organisations that have been doing great work in the Rotorua area for many years."
The Charity House project started in 2013 and is a ten-year training and partnership programme, which involves a collaboration between Toi Ohomai, Rotorua Chamber of Commerce, Rotorua Sunrise Rotary Club and the Rotorua Lakes Council.
Each year, one house is built by Toi Ohomai's carpentry, electrical and interior design students with the support of the business community, and then auctioned off with the proceeds going community groups.
Toi Ohomai Chief Executive Dr Leon Fourie says the Charity House Project also helps students gain valuable hands-on experience while contributing to the community. 
"Carpentry, electrical and interior design students benefit from the hands-on learning experience, providing an excellent understanding of residential dwellings through working on the project from start to finish. It provides them with a great foot in the door to the building, construction, electrical and design industries.
"Key objectives of the Charity House have been to create healthy living environments and energy efficiencies. The house is fully insulated to twice the building code requirements, meaning the frames are wider to allow for high insulation values, thereby creating energy efficiencies. This also results in lower power bills for the purchaser."
This year, the funds were awarded to Western Heights Community Association, Society of St Vincent De Paul, Rotorua Mountain Bike Club, Rotorua Community Youth Centre Trust, Rotorua Musical Theatre Incorporated, Visions of Helping Hand Charitable Trust Rotorua, Rotorua Musical Theatre Incorporated, Rotorua Citizens Advice Bureau, Rotorua District Riding for the Disabled Association Incorporated, Stand Children's Services, Combined Rotary Clubs of Rotorua Charitable Trust, Rotorua Hospital Chaplaincy Trust, Parkinson's NZ and Rotorua Sunrise Rotary Club.
Dr Fourie says the institute would not have been able to provide the funding to the groups without the support of sub-contractors and suppliers.
Sub-contractors consisted of Lewis Plumbing Co, Yellow Painting, Carpet Court, Mitre 10 Mega, Lee Brothers, Hepburn Electrical, Michelangelo Plasterers, Scaffolding NZ and Chittenden Design. Suppliers involved in last year's project were Lighting Direct, Redstag Timber, Hume Pine, JA Russell, Resene Paints, Roofing Industries, Rheem NZ, Kohla, Dux, Marley NZ, Hydroflow, Lewis Plumbing Co and Rylock Bay of Plenty.
Toi Ohomai is building another Charity House this year at the Rotorua Thermal Holiday Park, which borders the institute's Mokoia Campus. The three-bedroom house features a master bedroom with an ensuite, open-plan kitchen, dining area and lounge. It's transportable, making it ideal for first home buyers, a bach, an investment property, farm home, a second home for extended family or a retirement home.