Award Ceremony Acknowledges Inspirational Women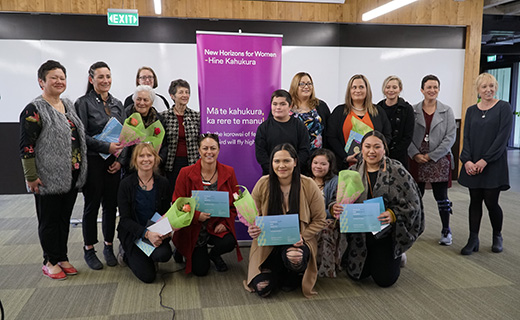 Tuesday, 13 Aug 2019
To empower our communities, you must always remain true to yourself.
That was the message from guest speaker Phyllis Tangitu at the presentation of 19 New Horizons Women's Trust: Hine Kahukura Awards at the ceremony held at Toi Ohomai Institute of Technology's Mokoia Campus on Sunday.
During her speech, Phyllis spoke about her life and how she wasn't always a natural student as a child.
But she never let that hold her back because she understands that hard work and perseverance are the keys to success. Starting out as a teacher, Phyllis now holds three undergraduate degrees, a master's with honours and is the General Manager Māori at Lakes District Health Board.
She says she is proud of how far she has come but she has never forgotten her roots, which began in Te Teko.
"For the past 30 years, I have worked in health and over the time my roles and positions have changed. I'm on the mental health review for New Zealand. I was the first Māori women appointed 17 years ago and I did the same thing [I've always done]. I walked into that room with all these lawyers and psychiatrists, kissed and hugged them all. 
"Within two years we had changed the whole way they conducted the way they did hearings. I thought, how on earth does an individual come in front of a quasi-judicial board and not feel welcome. So I have dragged that tribunal all around the countryside, we've had hearings on marae, we've had them in rooms. We start with karakia, we acknowledge the different cultures of the people and make sure that in the first instance they are acknowledged."
She says having support is the key to women succeeding and affecting change in their communities.
"Your families, and whānau, and friends are the biggest support that you're going to have on this journey. So don't let them go, you make sure that they are with you every step of the way."
The awards were open to women who are studying and working to achieve, not just for themselves but for the good of their families, communities and society.
New Horizons for Women Trust, chair, Colleen Dryden says the Trust received more than 500 applications and will give out a total of 52 awards across New Zealand.
"The awards are very flexible in how they are able to be used and except for specific research awards and the Outward Bound awards (attendance at an Outward Bound Course) they can be used by recipients as they wish. Some will use them to pay off fees/loans others use them to help pay travel and childcare expenses while they are studying.
"The awards are intended to help students to complete their educational journeys and follow their dreams and aspirations."
Colleen says usually the presentations were held only in Auckland and Wellington but this year the Trust decided to also hold a ceremony at Rotorua because of a large number of recipients from the Bay of Plenty and Waikato area.
She says this was possible because of the support from Toi Ohomai and six other sponsors.
Toi Ohomai provided funds for nine awards. The funds were raised during the institute's Charity Golf Day in December.
Toi Ohomai Chief Executive, Dr Leon Fourie says the Charity Golf Day was a great success and the institute will aim to build on this success for this year.
"We were thrilled with the response to our first charity fundraiser. The New Horizons for Women Trust: Hine Kahukura was chosen for their efforts in supporting education, innovation and research for New Zealand women. We look forward to an even more successful event this year."
He says supporting the trust was a great way of supporting the role Toi Ohomai has as a signatory to the United Nations Women's Empowerment Principles (UN WEPs).
UN WEPs is a global initiative to achieve gender equality in the workplace.