(Mis)representation by Practising Mixed-medium Artist, Darcell Apelu
Darcell Apelu draws on her own biculturalism to inspire her work, and explores the notion of 'being other' within the social climate of New Zealand and the Pacific.
Darcell's recently completed Masters thesis was titled You, Me, Them and stemmed from her response to her Polynesian heritage.
The project, which utilised her chosen mediums of moving image, sound, performance and installation, investigated the ongoing negotiation between cultures, exploring perceptions of the Pacific body through identification, specifically that of 'being other' within the social climate of New Zealand and the Pacific. This theme continues to dominate Darcell's work.
Darcell's most recent success was being chosen in September 2015 as a finalist in the John Fries Award, an annual non-acquisitive award offered through Viscopy, a not-for-profit rights management organisation that connects users with creators of content.
The work draws on previous research and has been in development since 2013. Titled open/abyss, Darcell says the performance plays on ideas of "you and me and an exchange between the viewer and the viewed. I stand in front of unsuspecting audience members and brush my hair while starting directly into their eyes. So there is a point where the audience member makes the decision to engage with me or not."
The opportunity to be involved in, and recognised, by such an organisation, allows Darcell to feed back to students the current and contemporary practices that are happening right now internationally. Being able to meet inspiring artists, learn about their work and practices is an aspect Darcell relishes sharing with her students in the Bachelor of Creative Industries.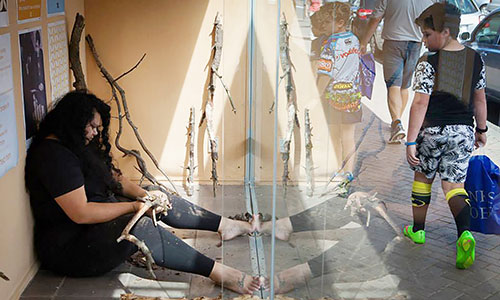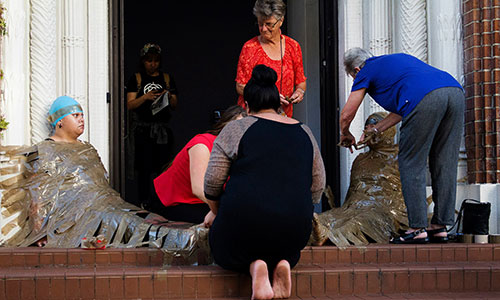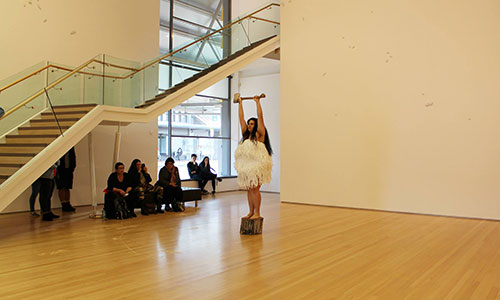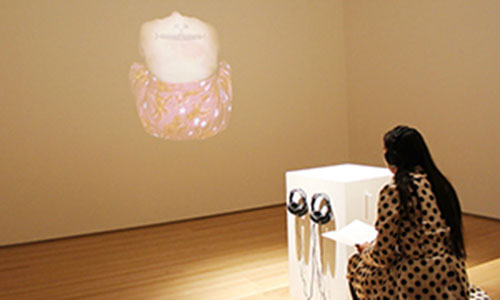 Selected Publications and Further Works
Apelu, D.  (2015). Pane per poveri (Bread for the poor) Artwork exhibited at Venice Biennale 6th-9th May 2015.  Invited artist by Artspace as co-curators. Teatro Marinoni, Venice, Lido, Italy. 
Apelu, D.  (2015).  A Jester's Whisper: John Fries Award 2015 Finalist Exhibition (Untitled performance).  Curator Oliver Watts. UNSW Galleries, Sydney, Australia, 5 September – 10 October.
Apelu, D. (2015) Black bird: Lonnie Hutchinson 1997-2013 survey. Re-worked performance Can you see me? 1997 Exhibition Gus Fisher Auckland 14th March 2015. Invited Artist. Performance collaboration with artist Amiria Puia-Taylor. 
Apelu, D. (2015) A'oga Hutt (Performance). Curator Lana Lopesi. Common Ground Hutt Public Art Festival. Lower Hutt, Wellington, 28 February – 7 March.
Apelu, D.  (2015).  Lift.  Performance as part of Make me exhibition.  Tauranga Arts Gellery, Tauranga, 7 August.
Apelu, D.  (2015).  Make me. Tauranga Art Gallery, Tauranga, 8 August – 13 September.