Sustainable Land-Use Practices (Level 7) (15 credits)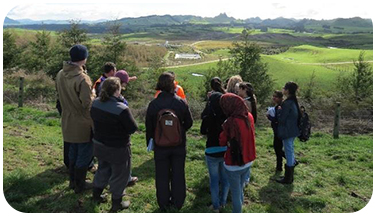 Students will appraise the science underpinning the sustainable allocation of scarce land resources and the environmental impacts of various land use options. They will learn to comprehensively evaluate and critique proposed solutions for sustainable resource use and effectively communicate the case for sustainable land-use practice.
The aim of this paper is to provide students with a comprehensive scientific understanding of local, regional, national and global land use issues. A case for building a sustainable future based on evidence-based science and an enduring relationship with the natural world will be presented. Students will assess the scientific basis for sustainable resource use and learn new methods of managing global land resources using the best available technology.
Content Outline:
Categorisation and assessment of land-use
Objective assessment of the impact of land-use on water quality in the catchment
Understanding and protecting biodiversity
Indigenous perspectives on sustainable land-use
The mitigation of climate change by adaptive land-use practice
The science and technology of nutrient and effluent management
Sustainability in agriculture and horticulture
Understanding and improving energy efficiency