Sam Gibson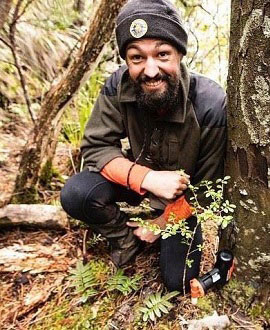 Adventure is Part of the Job Description
Sam Gibson is an adventurer, but he gets to make a difference while he's at it, working as a Technical Expert at Goodnature.  
Goodnature manufactures self-resetting traps for rats, stoats, possums, squirrels, mongoose and mink. What started off as a small New Zealand company and is now one of the world leaders in trap manufacturing.
The traps can reset themselves up to 24 times and are all A-Class humane tested and non-toxic. 
Sam services the domestic ecology market by going on helicopter or boat trips in remote areas to layout traps. In this role, Sam gets to see some of New Zealand's most extraordinary locations, many of which are beyond the pamphlets and tourism advertisements. Some of his recent highlights included travelling to the Hollyford Valley, Raukumara Ranges and Pomona Island.
"It's a really exciting job. I do a lot of project design too – tailoring trapping networks to meet forest productivity, pest species, native species and human resources. As you can imagine there is an element of pastoral care, problem solving and sales, so it helps me develop skills in different areas and it's always interesting." 
Sam says one of the best aspects of his job is that it involves a lot of travel and is incredibly varied with new challenges every day. 
"I like to look back on what we've achieved each year and I'm always impressed at the number of projects we've established."
Sam says that laying the groundwork while he was studying set him up for a successful career. 
"We had a lot of opportunities to gain industry experience while studying, which enabled us to meet and prove ourselves to many key players in the industry. 
"I would work really hard on field trips and ask for volunteer opportunities during our mid-year breaks. The connections I made through the field trips landed me my first two jobs in the industry.
"I had a pretty good basic toolbox when I graduated at Toi Ohomai, which made it easy to ease in to a career."
Sam enrolled for the two-year New Zealand Diploma in Environmental Management (Level 6) after working on an organic sheep and beef farm.
"I was a little hesitant to commit to a three year degree from the onset. There was something about the diploma with the optional third year that was quite alluring," says Sam.
"The hands-on style of learning, field trips and the calibre of tutors all made the diploma a great gateway into study. I really enjoyed the course and decided to go on to complete my degree – and  I'm really glad I did." 
According to Sam, the tutors added extra depth to the learning experience through their industry connections and pastoral care. 
"They always had an open door policy and would often do extra tutorials if we wanted to delve into a particular interest area more deeply. Having that level of accessibility to tutors is something lacking in so many other institutions.
"They were always genuinely excited when they could give you top marks and it was like disappointing a parent if you got a poor mark."
Sam currently lives in Gisborne with his fiancé, son, dog and chickens. 
"I love getting to live the life I want and enjoy. My best advice to make your dreams a reality would be to take advantage of every opportunity while studying, as that will help you get your foot in the door. 
"Don't be scared to put your hand up and communicate the direction you want to go in."
Follow Sam's adventures on Instagram at @sam_the_trap_man
 
Find out more about this subject