Study Forestry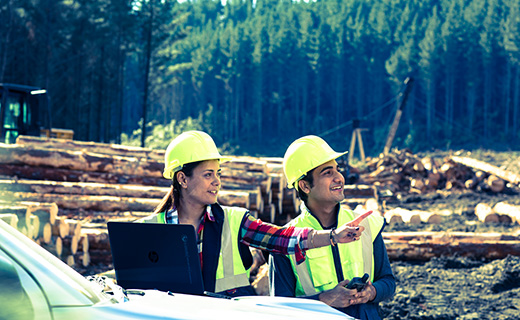 New Zealand's plantation forests are expected to grow in value over the next 15 years meaning employment opportunities are strong.
We offer Forest Management and Forestry Operations. If you choose to study Forestry Operations you'll cover topics like forestry business planning, health and safety, landing operations and processing, chainsaw safety and use, quality control, and silviculture.
If you choose to study Forest Management you'll cover topics like business communications, marketing, finance and statistics, forest health and nutrition management, forest supply chain management, hardware fundamentals and technology, harvesting operations, and silviculture planning.
| Programme/Course | Level | Choose Your Study Location |
| --- | --- | --- |
| National Certificate in Occupational Health and Safety (Coordination) (Level 4) | 4 | Rotorua (Mokoia Campus) |
| New Zealand Certificate in Forest Harvesting Operations (Level 3) - Strand in Basic Machine Operation | 3 | Rotorua (Mokoia Campus) |
| New Zealand Certificate in Forest Harvesting Operations (Level 3) - Strands in Manual Processing, and Quality Control | 3 | Rotorua (Mokoia Campus), Tokoroa, Taupo, Whakatane, Tauranga (Windermere Campus) |
| New Zealand Certificate in Forest Harvesting Operations (Level 4) | 4 | Rotorua (Mokoia Campus), Various Industry Locations |
| New Zealand Certificate in Forestry Operations (Level 3) | 3 | Rotorua (Mokoia Campus), Tokoroa, Taupo, Whakatane, Various Industry Locations |
| New Zealand Certificate in Tree Felling and Clearing (Non-Production) (Level 3) | 3 | Course full. View further options |
| New Zealand Diploma in Forest Management (Level 6) | 6 | Rotorua (Mokoia Campus) |
| Short Award in Chainsaw Skills | 3 | Rotorua (Mokoia Campus), Tokoroa, Taupo, Whakatane |