Jasmine Pene Wins E Tū Whānau Song Competition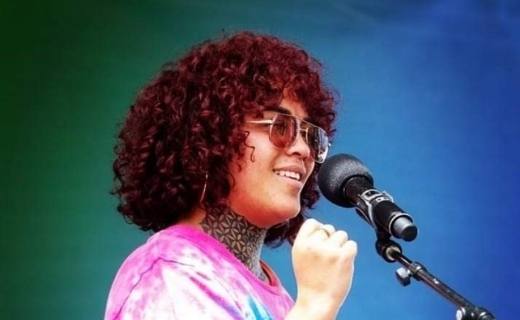 Tuesday, 16 Mar 2021
Jasmine Pene fell in love with music as a child, but only recently tapped into her musical skills. 
The Toi Ohomai Institute of Technology Certificate and Diploma in Music graduate was recently crowned winner at the 2020 E Tū Whānau Song Competition. 
Jasmine (aka Jazo) (Te Arawa, Ngāti Porou) was awarded $5000 for her song Your Mind is the Garden. 
The judges said the song's smooth synth sounds, and Jazo's warm and close vocal delivery made for dreamy listening. They said the waiata also offered musical sanctuary through dark personal times by celebrating opportunities in life with optimism and hope.
Jasmine says she made this song while she was "coming out of a dark place" that she was in mentally. 
"It talks about self-love and self-awareness. Allowing yourself the space to accept, heal and grow."
Jasmine not only composed the song but sang, played keyboards and produced her winning song Your Mind is the Garden. 
She also won the 2020 Te Manu Tito Waiata – Rotorua Song Writing Competition, before going on to win this year's E Tū Whānau competition.
"Honestly, when I found out I won, it was such a privilege. There were so many beautiful waiata entered into the competition, I didn't really expect to win."
Jasmine studied at Toi Ohomai in 2018 and 2019 and says the institute had a huge role in her growth in the industry. 
"I was brought up by my nan and papa and I use to watch my papa play the clarinet and piano as a kid. I think that's when I first started to fall in love with music but never really tapped into the musical side of me until three years ago. 
"I started off just doing karaoke at the pub with friends and they recommended the music course at Toi Ohomai and that's where my musical journey began." 
She says her tutor Ben Wilcox provided her with the right tools and skills to walk into the music industry with confidence.
"I wouldn't have been able to turn my passion into a profession without his guidance, he's a real top-notch dude and I'll always be grateful for his teachings." 
Since graduating Jasmine has become a development music producer for Parachute music and has recently had her first professional studio session with Sons of Zion, assisting the senior producer. 
Her advice for future students is to get to know themselves and align their values to career options. 
"In the past, I have spent years studying things that never really had my whole heart and soul invested in to. So, find out who you are, what you really want to do with the rest of your life and settle for nothing less than your very best."
Check out Jasmine's winning song here.