Early Childhood Education Students Come Together After Online Learning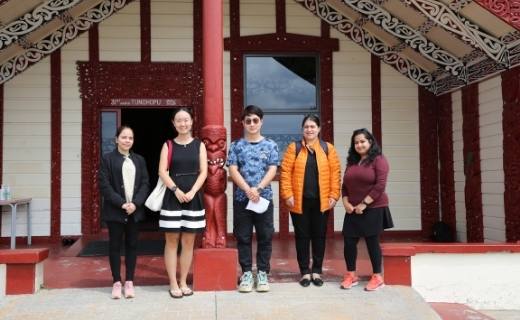 Friday, 12 Mar 2021
Jess Miao wants to help children learn and grow.
She is studying her Masters of Teaching Early Childhood Education at Toi Ohomai and has dreams of one day owning her own childcare centre.
"I love working with children. They are so inquisitive and learn so much," she says.
"It is fascinating helping them and guiding them through their most informative years, where they learn the most."
Jess started her course in semester two last year but due to COVID all learning for that semester was moved online. 
The Masters of Teaching Early Childhood Education class has now come together at our Mokoia campus and will continue their study on campus alongside 104 days of practicum placements across the year in a range of early childhood services. 
The students were welcomed together with pōhiri and an overnight marae stay, noho marae, where they were immersed in Māori culture and local history. 
"Our noho marae stay has been really unique," Jess says. 
"Where better to learn about Māori culture than in Rotorua? It has been very special to be welcomed on to the marae and to learn local history and the context of Māori culture within childcare."
Jess says it's also been great to connect with her fellow students.
"We've all been learning online and it has been fantastic that I can share this experience with them."  
Fellow student Daniel Li says the experience is one he won't forget. 
"I've never experienced anything like this before.
"Te reo Māori is part of our curriculum and this has been a great introduction to using Māori words and a history of Māori culture." 
Toi Ohomai Associate Dean Education, Nursing, Social Work and English Language Jane Ewens says it is important to give the students an authentic cultural experience that helps them feel connected to the city where they are studying, which is why the students were not only welcomed to Tangatarua Marae at the Mokoia Campus, but also Tunohopu Marae at Ohinemutu. 
"The visit to Tunohopu Marae has come about through ongoing discussions and represents an emerging partnership between the Toi Ohomai education department and Ngati Whakaue." 
Jane says there is a continued effort to work with local iwi to develop meaningful and mutually beneficial partnerships in the education space.
"We all believe that teachers should understand the significance of the places and stories of where they are teaching. We are looking at weaving more iwi specific content into our teacher education programmes and developing micro-credentials for working teachers to help them also to learn more about place-based education relevant to where they are teaching."
 
Related content:
Education news articles