Donna Dinsdale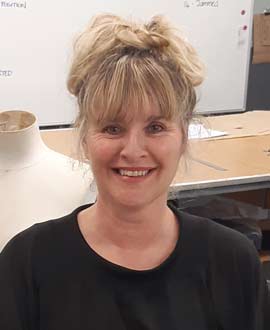 Tutor
Faculty of Business, Design and Service Industries
I'm currently teaching the Fashion Design major within the Bachelor of Creative Industries course at Toi Ohomai.
I have a Bachelor of Design from Otago University and a Master of Design from Auckland University of Technology. I love learning about cultural influences in art and design and sharing my knowledge with students and aspiring designers. I'm grateful I can practice both of my passions: teaching and fashion.
Over the past 20 years, I've been building a career where I'm able to do just that, as well as having the opportunity to further my own learning and fuel my curiosity.
Highlights of my career include showcasing my designs at the WOW World of Wearable Art Museum in Nelson and travelling to Tonga in 2018 to present and deliver a workshop to fashion design students at the Ahopanilolo Technical Institute. In 2019, I was awarded first place in the Menswear category and winner of the Overall Award of Excellence at the annual Hokonui Fashion Design Awards.
In my personal life, I still love to be creative, as well as giving back to my community. I create fashion and textile-based custom work for exhibitions and competitions, do freelance fashion design work, work as a community-based volunteer, dabble in cake decorating and Raranga (Māori flax weaving). I'm also Chairperson of the Tia Marae Hineota Kitchen Committee.