Rotorua Graduations: The Procession
The procession is made up of three events:
1. The Pohiri and Poroporoaki (Farewell)
The pohiri and poroporoaki for graduands, their family, and friends, is held at Tangatarua Marae on Mokoia Campus in Rotorua.
Tickets aren't required but seating is limited so arrive early for a good spot. Be sure to allow enough time to find a carpark on campus and walk to the front entrance of the marae (allow 5 minutes).
This is an outdoor event so do come prepared for all weather conditions.
Graduands wear their academic regalia for all graduation events and we encourage them to wear their family korowai and/or other cultural adornments.
Feel free to take photos outside the wharenui (meeting house) and please join us for morning tea following the poroporoaki.
2. The Procession
The Graduation Procession of graduands and Toi Ohomai staff starts at midday at the Village Green, in front of Lake Rotorua.
 
The procession heads along Whakaue Street, down Tutanekai Street, turns left onto Arawa Street, right onto Fenton Street, and ends at Sir Howard Morrison Performing Arts Centre.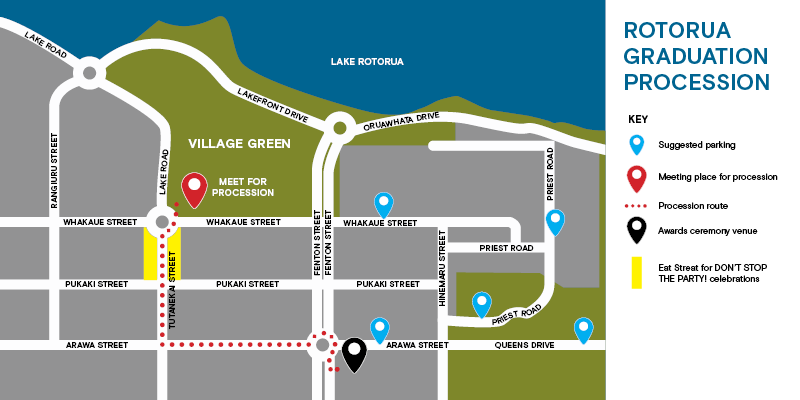 Family and friends are encouraged to join the admiring crowds lining the streets to cheer on the procession. This is a great photo opportunity!
 
If the procession is cancelled due to bad weather, a notice will be posted on our Facebook page, or feel free to call us to check.
3. The Graduation Ceremony
Each awards ceremony is a formal event and runs for about two hours. Tautoko (support) in the form of waiata or haka from whānau and friends is warmly welcomed at the ceremonies.
 
Please turn mobile phones off or to 'silent', and do your best to keep young children from being disruptive to the other guests.
 
After the ceremony please stay at the venue and join us for tea and light refreshments in the banquet room.
Contact information