Culinary Arts, Baking and Hospitality
Study Culinary Arts, Baking and Hospitality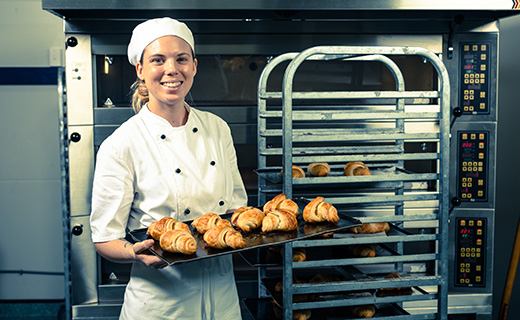 Looking for a role that can take you around the world?
Hospitality is the art of making people feel welcome and comfortable wherever they are, and the food and beverage sector is a crucial part of the experience.
There's a shortage of qualified people, so your employment opportunities in New Zealand and overseas are excellent.
Whether you're interested in hotel management, or working in cafés, restaurants, hotels and cruise ships, whether you like front-of-house, or being part of a busy commercial kitchen team, we have the programme for you!
You'll train in some of the region's best facilities with qualified and experienced tutors.
| Programme/Course | Level | Choose Your Study Location |
| --- | --- | --- |
| Applied Hospitality (Level 4) | 4 | Rotorua (Mokoia Campus) |
| Culinary Arts Level 4 | 4 | Rotorua (Mokoia Campus), Tokoroa, Taupo, Whakatane |
| Culinary Arts Level 5 | 5 | Rotorua (Mokoia Campus), Tokoroa |
| Food Hygiene for Food Handlers (Level 2) | 2 | Tauranga (Windermere Campus) |
| Graduate Diploma in Hotel Management | 7 | Rotorua (Mokoia Campus) |
| New Zealand Certificate in Baking (Generalist) (Level 4) | 4 | Rotorua (Mokoia Campus), Rotorua (Waipa Campus), Tauranga (Windermere Campus) |
| New Zealand Certificate in Cookery (Level 3) | 3 | Opotiki, Tauranga (Huria Marae), Tauranga (Windermere Campus) |
| New Zealand Certificate in Cookery (Level 4) | 4 | Rotorua (Mokoia Campus), Rotorua (Waipa Campus), Taupo, Tauranga (Windermere Campus), Whakatane |
| New Zealand Certificate in Food and Beverage Service (Level 4), Restaurant Services strand | 4 | Rotorua (Mokoia Campus), Tokoroa, Taupo |
| New Zealand Certificate in Food and Beverage Service with Barista & Café Services Strands (Level 3) | 3 | Opotiki, Rotorua (Mokoia Campus), Rotorua (Waipa Campus), Taupo, Tauranga (Windermere Campus), Tokoroa, Whakatane |
| New Zealand Certificate in Food and Beverage Service with Restaurant Services Strand (Level 4) | 4 | Tauranga (Windermere Campus) |
| New Zealand Certificate in Hospitality (Level 2) | 2 | Rotorua (Mokoia Campus) |
| New Zealand Certificate in Retail (Level 3) | 3 | Rotorua (Mokoia Campus), Tauranga (Windermere Campus) |
| New Zealand Certificate in Retail (Level 4) | 4 | Online |
| New Zealand Certificate in Retail (Level 3) | 3 | Rotorua (Mokoia Campus), Whakatane, Tauranga (Windermere Campus) |
| New Zealand Diploma in Baking (Level 5) | 5 | Rotorua (Mokoia Campus), Rotorua (Waipa Campus), Tauranga (Windermere Campus) |
| New Zealand Diploma in Cookery (Advanced) (Cookery Strand) (Level 5) | 5 | Rotorua (Mokoia Campus), Rotorua (Waipa Campus), Tauranga (Windermere Campus), Tokoroa |
| New Zealand Diploma in Hospitality Management (Level 5) | 5 | Rotorua (Mokoia Campus), Rotorua (Waipa Campus), Tauranga (Windermere Campus) |
| New Zealand Diploma in Hospitality Management (Level 6) | 6 | Rotorua (Mokoia Campus) |
| Sale and Supply of Alcohol Act Seminar (towards Licence Controller Qualification) (Level 4) | 4 | Blended Delivery (online and in class, Windermere) |