A Winding Path with Unlimited Potential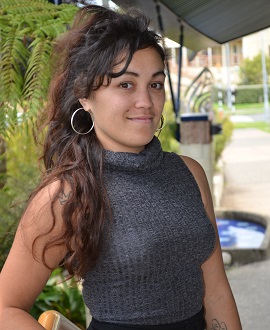 Having left school at the age of 13 and then jumping from one career to another, Alyshea Tuhakaraina is now confidently moving towards her dream of being self-employed, using her new graphic design skills.
Family has always been a big part in Alyshea's decision-making. As the eldest of six children, she did well at school but dropped out early to work as a kitchen-hand so she could contribute to her family's finances.
Fast forward many years later and it was the combination of watching her partner progressing in his career and Alyshea's desire to be a good role model to her two young sons that inspired her to sign up for a life-changing New Zealand Certificate in Study and Career Preparation (Level 3) course; ironically alongside two classmates she knows well - her mother and younger sister.
Alyshea then decided to follow in the footsteps of her nan and uncle by enrolling in the New Zealand Certificate in Arts and Design (Level 4) course. She enjoyed developing her graphic design skills during the course and is planning to study a couple of business management courses next, before launching her own design and merchandising business in 2020.
Alyshea (30) says a light bulb moment during the study and career preparation course helped her understand her journey up until now and where she wants to head next. After years of working in hospitality, in kiwifruit coolstores, completing both a cosmetology and a beautician course, and raising her sons (now aged 8 and 12), Alyshea knew she wanted to upskill and make a change, but she wasn't sure what she wanted to do and was concerned about her apparent inability to stick to a particular career path.
"We did a lot of soul-searching in the course, to figure out what we're good at. We did a personality test and it showed I was a multi-potentialist rather than a specialist, and that was what I needed to hear at that time. It meant I didn't need to change who I was, and it showed which careers would suit my personality," she says.
The course was also an ideal way to step back into tertiary study. Having spent the previous summer working weekends and late nights in a café, Alyshea enjoyed getting back into a routine which better suited her family. She had to learn to manage her time to meet assignment deadlines, but she enjoyed the sense of achievement as she passed her different papers.
As part of the course, she had to set new short-term, mid-term, and long-term goals. She frequently refers back to those goals now to give her motivation and direction: "It seems simple, but if you've never set goals like that before you don't know how to get started. If you've got something to look forward to, it's like a challenge – when can I tick this off? It's quite exciting!"
The goal-setting obviously caught on. While Alyshea carried on with an arts and design course, her mother embarked on an apiculture (beekeeping) course and her sister completed an online computing course.
 
Alyshea says an unusual Christmas gift from her partner – a cricut machine, which uses computer-designed images to cut all sorts of materials – prompted her to enrol in the arts and design course and then sparked the idea for her future business.
"Since I had the machine, I wanted to use it as best as I can. I can do things now in graphic design that I wasn't able to do. That sense of achievement – I'm still moving forward and I'm ready for the next challenge."
 
Find out more about this subject
Profile written on: Monday, 03 Dec 2018