Trailblazing Tutor to Train Toi Ohomai's First Cohort of Barbering Students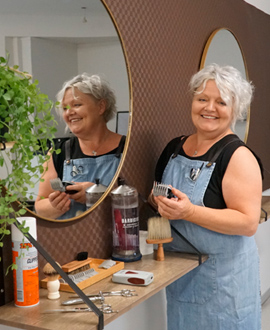 With decades experience in barbering and a love for a good, clean shave, Wendy Charlton is the new tutor for Toi Ohomai's first cohort of barbering students. The New Zealand Certificate in Barber Skills (Level 3) course will start this February. 
Wendy brings an amazing skill set, decades of industry experience and a passion for helping hard-working barbers carve out a successful career in the industry. 
"I had always wanted to be in the industry, but after training as a hairdresser and being introduced to barbering – I just fell in love with it," says Wendy. 
"It's so satisfying to do a blade shave and I love seeing the guys stand a little bit taller because their new cuts make them feel confident and good."
Wendy exchanged the historic beauty of the UK for New Zealand's picturesque shores after her children made the move, and brought her love of barbering with her. She has owned the Barbershop Co in Tauranga for two years and employs five trained barbers. 
Wendy spent 15 years as a tutor in the UK and is excited to be able to share her experience and industry knowledge with her students.  
"The goal is to train our students to the highest industry standards and help them all to find jobs in an industry they are truly passionate about by providing them with the support and experience they need to put their skills into practice," says Wendy. 
The new barber skills course will cover cutting and styling men's hair, blade shaving, beard trimming and line outs. 
Above and beyond these technical skills, students will also learn how to communicate and care for clients and will be able to apply their skills in a commercial environment when the campus training salon opens for members of the public. 
 
Find out more about this subject