Tevita Fositha: From Tonga to Tauranga to Follow His Passion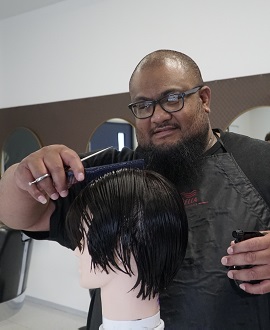 Meet Tevita Fositha, one of our first cohort of barbering students in Tauranga, who started in February this year.
Originally from Tonga, Tevita moved to New Zealand in 2003 and worked at a sawmill for a few years. After suffering a heart attack, Tevita had a wake-up call which prompted him to follow his dreams. 
Tevita's new start means he's pursuing a career in an industry he is passionate about. 
"Working in the sawmill took a toll on my health and last year I suffered a heart attack."
"That made me realise that I needed to pursue a different career and I figured I would do something I love," says Tevita. 
He's always liked grooming his own hair and says he was an 'expert' in shaving, which he often did for his mates who came around to his house. 
"One of my friends noticed my interest and recommended that I take up a course in barbering so I thought, yeah why not? 
"I moved from Katikati to Tauranga and I'm really loving it here. I'm learning a lot of new things in an area I love - shaving, using the scissor, clippers - it's all just so much fun," says Tevita. 
Our first class of barbering students will be trying out their newfound skills at the on-campus barbering salon, which will be open to the public soon (keep an eye on our news and social media pages for more information).
 
Find out more about this subject