Tamati Rhind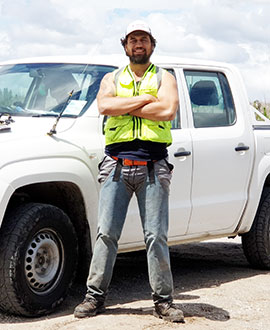 With a young family, Tamati Rhind wanted to find a job that would provide him with financial security.
But, after starting a welding apprenticeship, he realised that money wasn't the only factor that he should be considering when weighing up his future prospects.
Now with a career in forestry, when Tamati is asked about his favourite thing about his job, he says he loves being outside – rain, hail or shine.
"I love waking up early, driving to the forest and making a small difference with the environment. I especially love the smell of the trees and the sounds of birds, observing good people earn good coin and driving home at the end of the day knowing that you do it all again the next day and getting paid to do it."
Tamati returned to New Zealand after two years working and holidaying in the United Kingdom and parts of Europe. He says he had a different idea about his future prospects back then.
"I decided to come home and focus on finding a trade of any sort with money being the focus. So I started an apprenticeship in heavy fabrication to become a welder and fabricator with a company in Rotorua.
"But I came to a realisation that being a welder and making good money in the long term was not fulfilling and needed a change."
So he signed up to Toi Ohomai's New Zealand Diploma in Forest Management Level 6 course after it was recommended by friends.
"I had heard great reviews from friends, who did the forest management course a few years ago, and from my work colleagues, who are equally thriving in their respective roles," he says.
Tamati says the two-year course was ideal because it was being offered just down the road and he really enjoyed the resources he found at Toi Ohomai.
"I cannot boast enough how great the tutors [Mark Cleland and James Broadley] were. Their knowledge, patience and expertise were tumeke. The thing I liked was they both had completely different teaching styles. A mix of old school and structure at one end of the spectrum to new school and embracing up-and-coming technologies at the other end."
He says he particularly enjoyed the field trips, where he learned practical, hands-on skills. 
During the Whirinaki forest camp field trip, he learned about native tree identification and enjoyed the teamwork activities. On the Gisborne field trip, he observed how forest managers manage operations in their respective commercial plantations and also experienced silviculture, thinning, harvesting, road lining, roading engineering and trucking logistics
Tamati graduated last year and started in a graduate position with Timberlands. In September, he was promoted to a supervising role, as a forester, and he says the skills he learned at Toi Ohomai have helped him every day during his employment.
"Particularly the growth modelling and forest valuation as well as getting intimate and close with forestry related computer software such as Arc GIS, SCION forecaster and using Microsoft word and excel."
Tamati says his family – including his partner, their four-year-old son Bodhi and new-born daughter Eden-Rose - are now thriving because of his decision to study with him Toi Ohomai.
"We recently purchased our first home we move in December, 2018."
 
Find out more about this subject
Profile written on: Thursday, 06 Dec 2018