Practical Skills Keep Graduate in Good Stead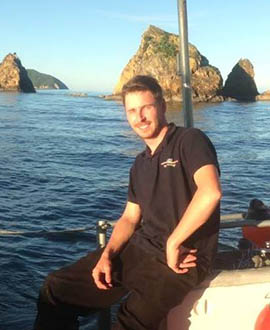 While studying at Toi Ohomai Jon Stead learned practical skills that are still serving him today.
Jon works as a marine technician at NIWA and he says everyday he uses the skills he acquired while studying the Diploma in Marine Studies.
"Basically I do the fieldwork and collect the data for the scientists. The marine studies course set me up with a wide variety of practical skills like diving and dive surveys, familiarisation with scientific equipment, boating knowledge and most of all, an understanding of how science works."
He say he decided to enrol after it was recommend it by a friend
"I was landscaping for a small business in Wellington and this course looked like lots of fun. The practical-based learning was very appealing to me as I really wanted to be out and about doing all the fun stuff!"
Jon says he enjoyed the course because of the experiences he got to practice his skills. 
"I enjoyed the diving field trips, staying in remote places and getting to dive some of New Zealand's best dive spots
"The tutors were great, they all had a different style of teaching and were all enthusiastic about different aspects of science. They were very knowledgeable and experienced and helped me through my study."
His advice to anyone wanting a career in the marine field is simple 
"Just do it and get stuck in! Make the most of every opportunity and utilise the vast knowledge and experience of all the tutors."
Find out more about this subject
Profile written on: Monday, 07 Jan 2019