Pippa Kerrisk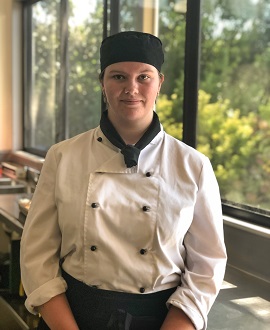 It's often the moments outside of the classroom that shape a student's study experience.
Whether it's making new friends, learning to 'do adult life' or getting valuable work experience while doing what you enjoy.
For Pippa Kerrisk, 2018 has been full of those moments, and the most valuable for her was going out and participating in many industry events as part of her Culinary Arts (Level 5) course.  
She'll be starting her new job at Tauranga's hip new Clarence Bistro & Bar in a week and she couldn't be happier. 
"I feel like having real world experience is really important – to be out of the classroom and have that time out in the industry is extremely important. We're doing the Food For Thought festival cook-off at Our Place Tauranga, working with the best chefs in the Bay. That's every student's dream," says Pippa. 
"The last time we did something like this at the Tauranga Home Show in 2018. One of the head chefs who participated was so impressed that he told me to send in my CV. I did and went for the interview - then got the job!"
Pippa Kerrisk says that the course prepared her well for her job, which she'll be balancing part-time at first, until she graduates in June.  
"It's amazing that, as students, we are getting these opportunities. I came to Toi Ohomai during my last year at school, as I felt like I wasn't learning anything. 
"Cooking has always been my passion – ever since I was a little girl. There has never been anything else. So I really needed a place that could teach me more than just the basics – I needed the professional skills because I wanted to follow my dream and make things happen," says Pippa.
She hopes to build up her industry experience and to then travel and experience the world through her tastebuds.
"My best advice for aspiring chefs would be this: get a good job. Learn skills and learn how the industry works from the guys who are knee-deep in it. Jump in the deep end."
 
Find out more about this subject
Profile written on: Thursday, 21 Mar 2019