Passion for Fashion sees Graduate Land Dream Job in UK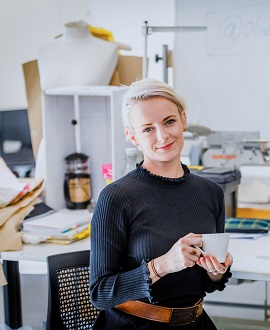 If you're passionate about vintage fashion, chances are you've come across some of the work Toi Ohomai graduate Olive Holland has been involved in as Creative Director for Europe's leading vintage fashion retailer, Beyond Retro.  
Olive's work is indicative of a changing mindset in the fashion industry that increasingly focuses on sustainable fashion and advocating the timelessness and repurposing of unique, high-quality designer pieces.
Olive completed her Bachelor of Creative Industries at Toi Ohomai in 2017, majoring in fashion design. 
"I always worked in the fashion industry and was looking for a way to dive deeper into the creative and behind-the-scenes processes of fashion," says Olive. 
"This course has been one of the best decisions I've made in my life. It gave me the opportunity to learn so much about the industry and opened so many job opportunities in an area that I'm passionate about."
The three-year Bachelor of Creative Industries course is focused on developing a diverse range of skills required in the creative workplace. Students learn from some of New Zealand's most talented artists, fashion designers and leading industry experts in connected spaces that support creativity and collaboration.
"We had all the resources we needed and it really helped us learn not only the practical aspects of the industry, but also the business aspects, which really give you that something extra it takes to get and succeed in the real world." 
 
Find out more about this subject
Profile written on: Thursday, 07 Feb 2019