Ngaraima Brown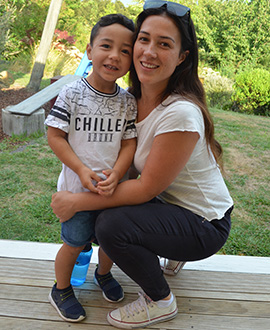 Sometimes rolling the dice can pay off in a big way, or at least that's what Ngaraima Brown is hoping.
Living in Turangi, Ngaraima decided to take her son and her mum's caravan, move to Rotorua and enrol in the New Zealand Certificate in Forest Harvesting Operations – Woodsman Programme at Toi Ohomai Institute of Technology.
She's never worked in forestry before, and her last job was as a waitress, but Ngaraima says she's loving the course and is glad she took the punt and rolled the dice.
"I didn't know what to do with this year. Someone suggested this course to me and said the industry needs more female workers."
With a small class size, Ngaraima says she gets a lot of one-on-one time with the tutor to ensure her skills are top notch.
She says the high-tech simulators also help her nail down her skills operating the machinery that she will have to use once she's on site.
"The simulators are great for muscle memory and learning the controls."
The course is only offered at the Institute's Mokoia Campus and Ngaraima says being able to use her mother's caravan meant she could stay at the campground next door and save a few bob on accommodation costs.
"It was really exciting moving here, even though I left it until the last minute. I didn't pack until the day we came up. It's really good living in the caravan, I have to keep everything organised because it gets pretty messy if I don't.
"My boy goes to kindy on campus, which is handy because I can drop him off before class. In the morning's he is pushing me out the door because he wants to get to kindy.
"After kindy we go back and we go for a swim or play so the only time we're in the caravan is at night when we're going to sleep."
Ngaraima says when she finishes the 21-week course she would like to find a job near Turangi and is confident, with the help of her tutor and other Toi Ohomai staff, she will be able to do that.
But she says she also has long term goals.
"I think I'll enjoy it way more than waitressing and eventually I'm hoping to drive a processor and this course will help me do that."
Find out more about this subject
Profile written on: Sunday, 24 Mar 2019