Morgan Wesche: Farming Offers Silver Lining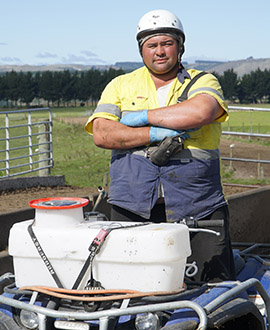 Missing out on the job he wanted turned out to be one of the best things that could have happened to Morgan Wesche.
Working night shift at a supermarket, Morgan applied for a job he thought he wanted but when he missed out on it he decided to change tact and enrolled in the farming course at Toi Ohomai.
He says his dad was a farmer and had taught him a lot of the skills required but he needed the qualification to prove to prospective employers he could do the job.
"I had worked for my father on an export farm but I wasn't sure I wanted a future in the farming sector. So I did a bit of landscaping and other jobs before I realised that this is really what I wanted to do.
"It took me a long time to realise I wanted to get in to farming, I am 32 now and I really keen to take advantage of all of the opportunities that are available to me."
Now he is working as an assistant manager on a farm near Taupō and says the support he received from tutor Mel Church was invaluable.
"I had the knowledge but I didn't have the ticket to show I could do the job. That's why I did the course so I could get a bit of paper to prove I could do the job.
"Mel was really helpful and supportive. She has great contacts in the industry."
He says he was surprised about how fast you could advance in the industry.
"If you're willing to put in the hard work then you can definitely move up the ladder really quickly and I really like that. One day soon I would like to get in to contract milking and then share milking. One day I would like to own my own bit of land."
 
Find out more about this subject