Moana Kerr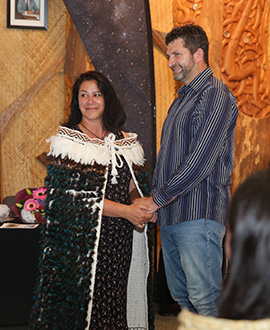 Achieving your dreams takes commitment and sacrifice but according to Moana Kerr it also gives the biggest pay-off.
Moana graduates with a Bachelor of Nursing from Toi Ohomai this week. She started working as a registered nurse in the respiratory unit at Waikato Hospital last month and has already begun the Nurse Education Training Programme to continue her professional development.
She says it's everything she dreamed about and believes the Toi Ohomai course was invaluable to achieving her goal.
"It offered a great insight of the opportunities in the world of nursing, gave me tools to understand the process of working effectively as a registered nurse and pushed me out of my comfort zone to expand, reflect and grow as an individual.
"I looked at studying at other polytechnics, but it came down to location because it meant I could be close to my wider whānau but not on their doorstep. However, the profile of the Bachelor of Nursing course with the Te Wheke Māori Philosophy was the clincher or point of difference for me."
She says the open communication with the tutors and student nurse educators was awesome during her studies.
"They were very patient. Some had a vast knowledge base, which was motivating to learn from.
"Those who were specialised in the area they were teaching were enthusiastic of the paper and it was very easy as well as enjoyable to learn from. Some I felt I could listen to all day, and looked forward to the next session with them.
"I also enjoyed the placements and being able to practice clinical skills in the labs."
Her advice for anyone looking at studying is to try and enjoy the ride.
"Try to enjoy the journey of learning, look past the assignments, deadlines and exams. There were many moments of laughter in our classes, and laughing at myself. Also it was helpful to remember I don't need to know everything today, just know some things and know them well."
Before studying, Moana had been living in Haast, running a whitebait business with her husband and raising their two boys while living off the grid. Shifting to the Bay of Plenty with her sons, and leaving her husband behind to keep their business going wasn't easy, she says, but she was fortunate for their support of her dreams.
At the traditional Bachelor of Nursing pinning ceremony earlier this year, the nursing graduates prepare a brief speech for their loved ones, thanking them for their support and manaakitanga. The speeches are read out loud while their loved ones fasten the prestigious badge.
In hers, Moana said her husband deserved the honour of pinning her because he had supported her throughout her journey as a student.
"By following my dream, I forced our family to live apart, sacrificing our time together and leaving you to run our business alone in Haast.
"There were many tears over the phone, and sleepless nights but you listened to my constant frustrations, regrets, but also my joys and personal growth. 
"You took on a role you didn't ask for. You made it your own and carved it with your humour, mana and strength. Our two sons are blessed to live amongst these valuable qualities around them every day.
"There were many days of self-doubt where I felt I was not worthy. The toughest days when all I had left in me was what echoed in my heart, and that is you, my love. We stand here together today, because of your unwavering support and belief in me."
Moana says losing two of her brothers and seeing negative health statistics impacting on Māori were two of the key reasons why she wanted to become a nurse.
She says the favourite part about her job is being able to advocate for her patient, particularly those who are feeling vulnerable because of their illness.
Find out more about this subject
Profile written on: Monday, 01 Apr 2019