Jordan Birt: Tourism Opening the Door to Seeing the World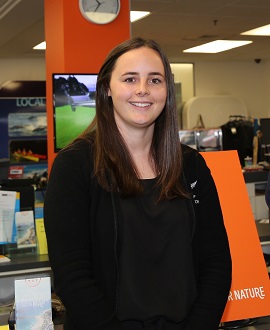 Jordan Birt's passion for travelling brought her to Toi Ohomai to pursue a degree in tourism management. 
New Zealand consistently makes it onto various lists of the world's top places to travel to. It's no surprise then, that Rotorua local Jordan Birt grew up with a passion for travelling and tourism. 
With the recent announcement that New Zealand's tourism industry is set for significant growth, with more than 5.1 million visitors expected by 2024, Jordan has a promising career ahead of her. 
After completing the Bachelor of Tourism Management in 2018, she's already reaping the benefits.
"I'm currently working as a retail manager at the Tauranga i-SITE," says Jordan. 
"I'm excited to see where my career takes me and feel like I've been able to bring a lot of confidence and skills to the table."
For Jordan, the highlight of the course was getting to explore Rotorua's local tourism activities. 
"I also loved that we had many opportunities to network with industry professionals, which helped me gain confidence and make valuable connections," says Jordan. 
"I would definitely recommend looking in to Toi Ohomai's tourism courses if you're at all passionate about travel. You gain a lot of knowledge on the industry as a whole and get the opportunity to travel the world through work."
 
Find out more about this subject