Jeffrey Cayobit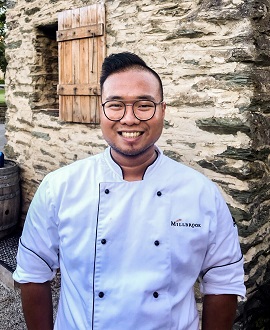 "I got a late start in the culinary world. I studied Business Administration back in the Philippines, as I thought having a bachelor degree in business would help me run my own restaurant. I guess it would, probably. But I realised I needed more experience and knowledge in food not just on the management side. And so I decided to take my studies (and my tastebuds) abroad…" 
Jeffrey Cayobit is a passionate chef who graduated with a diploma in Culinary Arts (Level 5) from Toi Ohomai in 2017. 
"I've always wanted to have my own restaurant featuring Filipino dishes, as I feel that it lacks attention and that people from around the world need to see and taste it for themselves," says Jeffrey about his lifelong love for food and cooking. 
He now gets to do share his passion with tourists and food lovers in Queenstown, where he runs his own kitchen at the renowned Millbrook Restaurant's alfresco dining experience.
"My first job in New Zealand was at WaiOra Resort, where I worked as a commis chef doing larder and dessert, while studying part time. 
"I stayed at the resort until I graduated then I got promoted to a chef de partie. However, I was really keen to challenge myself and get out of my comfort zone, so I decided to move to a bigger city," says Jeffrey. 
After making the move to Wellington, Jeffrey started working at Shed 5 and then Crabshack. Both of these experiences helped him learn and grow a lot, he says.  
"It wasn't easy working there. I experienced almost everything a chef could imagine. Working long hours in a fast-paced environment with little breaks and almost no room for mistakes was very stressful – but I learnt a lot." 
Overcoming the challenges of the job and sticking to it proved very fruitful for Jeffrey, who was offered a job at Millbrook shortly after. 
"I don't have any regrets, looking back. All the challenges and hard work prepared me for what was to come. Rotorua taught me the basics, it was my training ground.
Wellington taught me to work fast and how to operate in a high-stress environment. And I'm still learning even up until today. We just don't stop here. It's a continuous learning. I am just enjoying each and every moment of it," says Jeffrey. 
 
Find out more about this subject
Profile written on: Thursday, 21 Mar 2019