Jake Andersen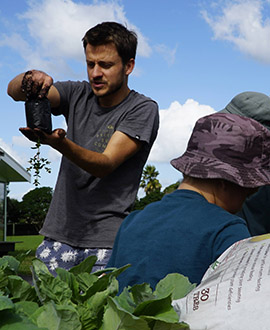 Jake Andersen loves teaching children how to grow kai and cook healthy meals. He says he wishes someone showed him earlier how easy, fun and rewarding it can be to grow your own and turn it into something delicious - so his mission is to share this with as many kids as he can!  
He says "It seems to make them more likely to try new food too - something about nurturing something from seed just makes them want to try it!"
It was like that for him. Jake had already graduated with a horticulture qualification from Toi Ohomai and had been working in the institute's gardens when he spotted brussel sprouts growing for the first time.
He'd always hated brussel sprouts but for some reason seeing them in the garden, something clicked and he just wanted to taste them - he's loved them ever since!
Jake also loves cooking and so he re-enrolled at Toi Ohomai to study a certificate in cookery. This is where his passion for sharing his love of growing and cooking food began! Upon setting up a connection between the cookery class and the horticulture department, Jake was asked if he would like to teach his cookery class how to maintain an edible garden for 30 minutes a week.
"I said yes, not really knowing what I was getting myself in for… but seeing people's eyes light up when they learnt where food they ate everyday actually comes from gave me such a buzz. I knew this was what I really wanted to do.
"With the skills I gained through my horticulture and cookery training, I enrolled in a Bachelor of Teaching with the University of Waikato and am now getting to share my passion with kids from across the district."
Jake works for the charitable trust People, Plants, Schools (PiPS) - supporting several of Tauranga's primary schools in running their gardening programmes, including Mount Maunganui Primary, which held its annual planting day in April.
Toi Ohomai was once again on hand to help make Jake's vision come true by providing plants to the school – broccoli, cauliflower, guavas and passionfruit – all grown at the institute's Windermere, Waipa and Whakatāne campuses by this year's Level 3 horticulture students.
Jake worked with a group of children to plant the seedlings and will be on hand to help guide the
children from garden to plate over the coming months.
"Planting and growing the produce with the children, taking them through the growth cycle, harvest and then preparing it to take to plate – it's all part of the learning process," he says.
Jake had been delivering a gardening programme at Te Akau ki Papamoa Primary School when PiPS connected with him.
He says it's by far the most rewarding work he's ever done. This is of course due to the fact that he now gets to share his passion with children from across the rohe. However, he also really appreciates the opportunity he gets to connect with those children who might be struggling in school or even at home.
It has also provided an outdoor classroom for those students who sometimes struggle to pay
attention in a more traditional classroom, and has been used as a reward to great effect for those students.
"The kids get exposed to where their food comes from and grow a positive connection to it. Some don't know where a tomato comes from and that a potato comes out of the ground. I'm extremely grateful to be connecting these dots for children and to be sharing the joys of growing food."
"I'm also immensely appreciative of the pivotal role Toi Ohomai has played and continues to play in my ability to do this mahi. Nā reira, tēnā rawa atu koutou!"
Find out more about this subject
Profile written on: Monday, 29 Apr 2019