Hard Work Pays Off For New Nurse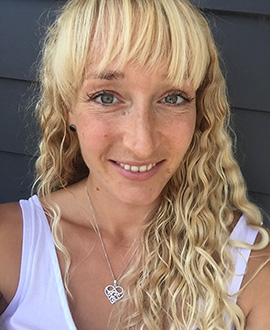 There are going to be tough days and sleepless nights but Kate Malcolm assures future students it will all be worth it in the end.
The mother of three completed a Bachelor of Nursing last year and will begin working at Tauranga Hospital as a registered nurse this month. She graduates next month with her classmates and says she is looking forward to starting the rest of her life.
When she first started studying with Toi Ohomai, Kate was a single mum and had just returned from living in Australia. She says she was sick of having to go to Work and Income and beg for financial support, so wanted to find a career that would allow her to be independent.
Four years ago she enrolled at Bay of Plenty Polytechnic, prior to the institute's merger with Waiariki Institute of Technology that created Toi Ohomai, and completed a study and career preparation course before taking on the degree.
She had previously studied graphic design at university but says the study and career preparation course gave her additional skills she would need to do well in her nursing degree.  
"A huge part of nursing is research-based and so you have to be able to read and undertake research to back up assessments."
She says she wanted to become a nurse because she loves taking care of people.
"Even though some days were tough when I did my practicum in the hospitals, I got to interact with people and I would go home a little happier because as a nurse you get back as much as you give.
"People are really appreciative of the help you give and you leave with a good feeling of job satisfaction."
She says she also finds the job mentally stimulating and wants to continue to advance her career.
"I want to keep studying and do my postgraduate. I want to become a nurse practitioner and help people who have more than one chronic condition and are struggling to cope at home."
 
Find out more about this subject
Profile written on: Sunday, 03 Mar 2019