Graduate Uses Passion For Art To Build Career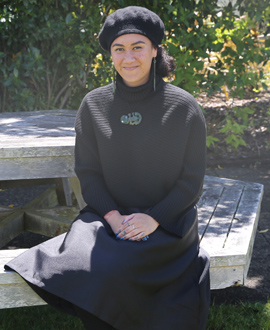 Te Rauotehuia Pou has always loved art and one day wants to return to her old school to encouraged the next generation to use it as a way of telling their stories.
But for now she is gaining further experience working at Rotorua media and communications company Arataua after graduating from Toi Ohomai this year with a Bachelor of Creative Technologies, majoring in visual arts.
Te Rauotehuia says she has always loved art so when she discovered the creative technologies degree after returning to Rotorua from travelling abroad she knew it was the one for her.
She says one of the best things about the course as that she was able to live in her hometown and still study.
"I always loved art at school but when I left in 2011 I decided I would do some travelling instead of going to study.
"I saw the new degree after I returned home and so I decided to enrol in it because it completely sparked my passion for art.
"I was always interested in study but I just never felt like I wanted to move anywhere far from home so it was perfect and I didn't have think twice about signing up."
Te Rauotehuia says she enjoyed the course and learning new creative processes.
"I enjoy being able to put my creative thinking into practice. The creative technologies degree is a multi-disciplined degree so I learned many different ways of applying creative thinking.
We also learned about the business of art and that has been really helpful."
Te Rauotehuia says she enjoyed learning from the tutors because the provided a nurturing environment to explore art in.
"My tutors were just awesome – not just to me, but our whole class. We had lots of different types of people in our class and the tutors nurtured our creative minds and told us anything was possible. I felt really, really comfortable even though my tutors were primarily pakehā, they were inclusive of everyone – not just Māori but all cultures."
She says she is looking at doing her masters next year but her ultimate goal is to teach art at her old school, Te Kura Kaupapa o Ruamata in Rotorua.
"I still want to carry on down the academic track and have been thinking about doing my masters at Auckland University of Technology. But eventually, I would like to end up teaching art. I would like go back to Ruamata and teach Māori students. I would like to teach art and encourage Māori kids to explore the creative process as a way of telling their stories."
 
Find out more about this subject
Profile written on: Friday, 21 Dec 2018