Graduate Rates Toi Ohomai for Practical Skills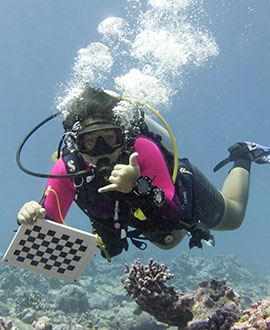 Growing up in Tahiti, Marguerite Taiarui always knew she wanted to study marine science.
However, Marguerite would have only been able to study marine science at Masters level and so she says she made a decision to move to New Zealand.
"French bachelor courses are very general with little practical courses," says Marguerite. "There was a course in Northern France which had some practical parts, but it was mainly focussing on aquaculture and that wasn't what I wanted to do. 
"In addition, I didn't want to go to France as it is so far from French Polynesia. New Zealand seemed like a good alternative as it's close to home, only a five-hour flight, and Māori culture is very similar to my culture."
Marguerite chose Toi Ohomai after talking with a woman who studied with Bay of Plenty Polytechnic, which merged with Waiariki Institute of Technology to establish the new tertiary organisation in 2017.
"I met an alumnus during the NZ Festival in Tahiti in February 2011. She did the course a few years before and told me she really enjoyed it as it had a good mix of practical and theoretical classes. She gave me the website; I checked it out and directly wanted to enrol!
"I also chose the Toi Ohomai course because at the end of the day not only was I gaining a degree but also a lot of different certificates, including diving and other practical skills."
Marguerite says after graduating with a Bachelor of Science, majoring in marine studies, she returned to Tahiti for six months and worked for the city council of Mahina (in Tahiti) to set up a marine reserve. 
"I then went to Australia to do postgraduate studies, specialising in fisheries biology and management, at James Cook University for 18 months. I returned to Tahiti in December 2016 and have been working as marine consultant. I'm planning on doing a PhD in 2019 on small-scale fisheries in French Polynesia."
She says she feels fortunate to have the career that she does.
"I like all parts of my job because in any project I'm in charge of, I would conceptualise it from the start and drive it until the end – designing and conducting a particular study then analysing and writing the report. 
"I have to admit that the field work is probably the best part of all. I've always loved being in or on the water, so I feel immensely lucky to be able to do so in my job."
She says Toi Ohomai set her up perfectly her career because it provided her with the practical skills as well as the theoretical understanding.
"The position I have now requires a lot of experience in the field, which I almost entirely gained during my course in Tauranga. In fact, most students, at least in the French system, would never dive as part of their bachelor's course and wouldn't learn or use underwater scientific methods.
"All the field trips we did during my course, and the diving courses, taught me how to organise fieldwork, technical limitations and many other skills. It also helped me build confidence and competence in the field. 
"The theoretical parts of the course also helped me in gaining knowledge of the marine environment and in developing my critical and scientific thinking, especially in the third year. I think all of this is due not just to the course itself but also to the passionate staff who run the course. All tutors were knowledgeable in their respective fields and were willing to share their knowledge and skills which made it enjoyable to study."

Find out more about this subject
Profile written on: Tuesday, 18 Dec 2018