Forestry Graduate Focused on Making Some Coin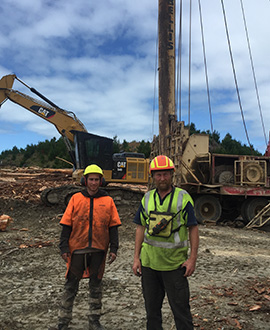 Doing nothing much and only able to find seasonal jobs, Lucan Love-Innes decided to follow his mate's lead and sign up to do our forestry operations course.
Now he has a full-time job and is focussed on making financial gains.
Based in Picton, Lucan graduated from the New Zealand Certificate in Forest Harvesting Operations (Level 3) last year and started working for Marlborough Logging.
Lucan says he had never really spent much time in the bush, apart from a bit of hunting, and didn't even know how to use a chainsaw.
But he says the forestry management course was the perfect way to learn hands-on skills and now he has a job he loves.
"To be honest I wasn't up to much, so I just thought I would go and try something. I had never used a chainsaw or knew anything much about forestry, but my mate told me about the course because he was doing it.
"I was working in a seasonal job and I wanted a full time one."
Lucan says he was offered the job by Marlborough Logging owner Shane Mackel after he completed work experience at the company during the course.
"Our tutor jacked up the job. He gave us a chance with work experience and then Shane ended up employing me."
The course was offered in Blenheim, about a 25-minute drive from his home, but every morning he was able to catch a ride to class. Lucan says once there his tutor would inspire them by making sure the learning was fun and engaging. 
"Our tutor was cool as, he was strict but he knew how to have fun and stuff. He made us do the work and made it fun at the same time."
Lucan says he may undertake further study in the future but for now he is content on just making some coin. 
Find out more about this subject
Profile written on: Sunday, 20 Jan 2019