Flexible Options For Future Teachers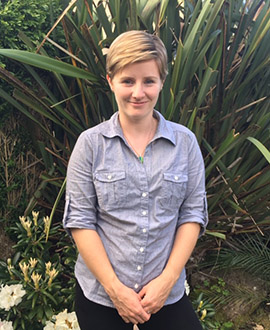 With the Government's new plan to require most early childhood centre staff to be qualified by 2020, a recent Toi Ohomai graduate says there are plenty of flexible options for anyone wanting to up-skill.
Shiona Beale says working with children has always brought her joy and she knew she wanted to study early childhood education.
But she also wanted to study somewhere close to home that provided a classroom environment because she knew that would suit her learning style.
"I know that I learn better through face-to-face teaching, as opposed to online or distance learning."
Living in Rotorua, Shiona signed up to study the early childhood degree at Toi Ohomai's Mokoia Campus as a full-time student. Although, with part-time options available, Shiona says Toi Ohomai is a great option for anyone working in the industry who wanted to become qualified.
She says while the workload was intense at times, she was surrounded by encouraging and supportive people including staff and classmates.
"The teaching staff on the course are passionate about early childhood education, and their drive to see best practice in the industry was inspiring for those of us just starting out. That was what stood out for me most, that I was learning from people who really care about what they're doing. 
"The course itself gave me an in-depth knowledge of child development, and different cultural perspectives on teaching and learning which was really valuable. I enjoyed the format of the course, having time in class and going out on practicums to put our learning into practice. 
"I also enjoyed working alongside my classmates and learning from each other – we were a diverse group of people who all had a lot to offer, and our combined experiences and perspectives made for an interesting group."
Shiona is now working full-time at Tiaki Early Learning Centre in Rotorua and says it is the most fulfilling job she has ever had.
"I spend my days alongside amazing little people who are figuring out who they are and what they're capable of, and there's so much joy in that. I get to be a role model at a really crucial time in the children's development, and be a source of love and encouragement for them as they grow into themselves.  
"There's never a dull moment, and I'm always being challenged and inspired to be the best version of myself for the children. One of the things I love most is that the role of an ECE teacher is so varied from day to day. When you're going where the children's interests lead you, you end up in all sorts of places – building, bird-watching, cooking, making music, bug hunting, gardening. Every day is an adventure, and I get to use so many of my own strengths and interests in working with the children. It's a career that has a real sense of purpose, and it's really special to get to be a part of the learning journey for children and families."
 
Find out more about this subject
Profile written on: Thursday, 06 Dec 2018