Diploma Paves the Way to Success for Business Graduate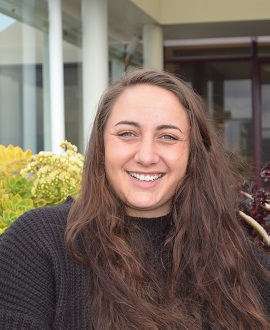 After a move across the country and some self-discovery, Saunoa Pau decided to chase her dreams of becoming a Legal Executive with a strong focus on community service.
Saunoa moved her entire life to Tauranga from the scenic shores of Dunedin with her partner, without any certainty of what she wanted to do or where she wanted to be. 
"I had been working in retail for a few years when I asked myself where I wanted to be in five years. I decided that, in order to change my circumstances, I needed to upskill, which led to me enrolling for a free introductory course to help me gain some basic computer skills," says Saunoa. 
According to Saunoa, she enjoyed the course and challenging herself so much that she decided to further her studies even more. Her commitment and hard work were greatly rewarded with three scholarships. 
"I loved the challenge of taking one step further, learning even more skills and feeling a great sense of achievement after completing each course. And the tutors were awesome as well, they are really encouraging and are super supportive."
Saunoa went on to complete the New Zealand Certificate in Business Administration up to Level 4, after which she enrolled for the New Zealand Diploma in Legal Executive Studies (Level 6), which would eventually lead to her landing a coveted job at respected law firm Holland Beckett Law in Tauranga. 
"I went on to do the diploma because I enjoyed interpreting the legislation and HR topics we touched on in the other courses. 
"Another main reason why I followed the legal pathway was because of the community involvement aspect. I think it's really important. Holland and Beckett Law are also very active in terms of community involvement, so it's been great working for a company with shared values," says Saunoa. 
So what's next for this high achiever?
Saunoa says she is currently working on getting work experience and enjoying the fact that she can now build her career on strong foundations with confidence. 
"It's not as daunting as you think it is! I would definitely recommend enrolling for a course if you want to improve your skills and knowledge - you never know where it might take you and the sky is the limit.
"It's such a great way to change your situation; just starting somewhere and knowing that you'll get the support and gain the knowledge you need to confidently walk into your dream job." 
Find out more about this subject
Profile written on: Thursday, 17 Jan 2019