Brooke Wanoa – Sharing the Love of Travel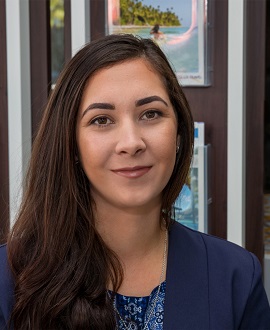 Since completing her Diploma in Tourism (majoring in travel management) in 2014, Brooke Wanoa from Tauranga has been travelling the world – for work as well as pleasure. 
She's now working as a travel agent with House of Travel in Mt Maunganui and before that, had roles with Flight Centre and Cruiseabout as a cruise specialist. 
Visits to the Great Barrier Reef, Fiji, and cruises to Sydney, as well as cruise ship inspections in Tauranga and Auckland were all part of a day's work for Brooke. 
Her own travels have taken her to Asia, the US and Mexico, and her 'to do' list just keeps on getting longer, she says. 
"That's the benefit of working in travel because, not only do you get to plan other people's holidays, you also get ideas for your own trips. You're surrounded by endless inspiration."
Apart from the travel perks, what Brooke loves most about the travel industry is working with people – her customers, as well as her supportive colleagues and the many industry connections she has made. When you all share the same passion, it's easy to connect with like-minded people, she says. 
"My focus first and foremost is always on the customer and how I can assist them to have the best possible holiday. You really do get invested in this kind of work so you want to build a relationship with your client and share their excitement."
Brooke knew nothing about the industry when she started her first travel certificate course at Toi Ohomai (formerly Bay of Plenty Polytechnic) in 2013. 
"Originally I wanted to be a lawyer but I realised university wasn't for me, so I moved to Tauranga and looked at a range of level 3 courses. Travel was the one that appealed the most."
She went on to complete both her Diploma in Tourism and Diploma in Business Level 5, and impressed her tutors so much she was the first one they thought of when Cruiseabout called the Institute looking for top students. From there she never looked back and says the best thing she ever did was take a leap of faith and put herself forward for every travel-related opportunity, and that's what created connections and new avenues.
"This industry is forever changing and going through trends. Every day you learn something new and every day is different; you have no idea what you're up for. That in itself can be scary but exhilarating nonetheless!"
 
Find out more about this subject