Aimee Lawrence – Taking Skills Back to Her Roots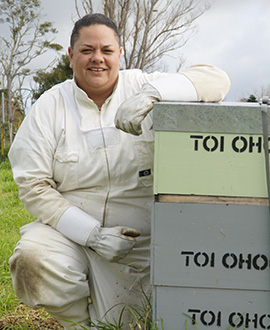 After 15 hectic years as a dispatcher in  the transport and logistics industry in Auckland, Aimee Lawrence had a mid-30s rethink of her life.
Realising how much she loved volunteering at her local community garden, and her passion for sustainability, Aimee headed to Tauranga at the start of 2018 and enrolled in the free 12-week NZ Certificate in Primary Industry Skills (Level 2) at Toi Ohomai.  She says it was time to see if horticulture was her next step. 
"I was 35 and hadn't been in a classroom in 20 years so at first I was hesitant, but as soon as I started, I knew this was where I was meant to be."
That introductory course quickly opened up new opportunities. When she heard apiculture tutor Omar Martinez talk about his new course about to kick off in Tauranga, Aimee quickly saw how she could incorporate beekeeping into her end goal. To make matters even sweeter, Fees Free paid for her study!
Aimee completed the one-year NZ Certificate in Apiculture (Level 3) in April 2019 and continues to tend to her beehive, which she received as part of the course along with protective clothing.  
"Omar was amazing and took us through everything that we'd ever come across in beekeeping. Having our own beehive made a huge difference because we were learning on the job, dealing with hive and queen management, extraction of honey and treating hive diseases, which are inevitable in beekeeping today."
Through good hive management, Aimee was able to extract 17 kilograms of honey from her hive, but says beekeeping is not just about the honey.
"Omar trained us to think bigger – about the potential for a range of bee products and professional pollination services."
She says plenty of opportunities exist for trained beekeepers to keep their own hives and develop a niche market for their products, through to working with large commercial operations. 
But for the moment, Aimee plans to add study in organic primary production to her skill-set when she can so that she can achieve her overall goal.
"I'm Ngāti Kahu from the Karikari Peninsula in Northland and I want to go home and implement what I've learned. We've a lot of iwi land but years of dairy and mutton farming have ruined it, and there's a lot of gorse. I want to return the land to a state where we can grow organically, and then develop community gardens and a beekeeping operation which can benefit my whole whānau, and create jobs."
In addition to the valuable learning, she says the courses have been brilliant for networking with students and gaining industry connections through tutors. 
"I can't speak highly enough of the inspiring tutors and the support system – all the help, support and resources are there, you just need to go and ask."
 
Find out more about this subject