Tina Herlund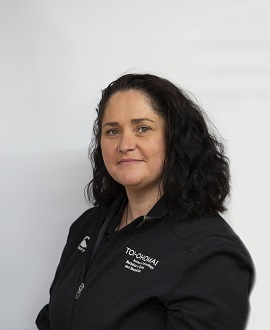 Powerlifting Grandmother Inspires Others
Tina Herlund has found the perfect way to combine her sporty background with her new passion for anatomy and teaching.
The 47-year-old powerlifting grandmother, who lives in Mangakino, enrolled in the Bachelor of Sport and Recreation this year and received one of eight $1000 Toi Ohomai Study Awards.
The money went straight into repaying Tina's student loan, and was particularly appreciated given the fact that her partner Peter is also a Toi Ohomai student and Tina is no longer entitled to a full student allowance. 
Tina has always played sport: "You name it, I've done it."
The long list includes rugby, football, softball, swimming and surf life saving - but her latest passion is powerlifting, a sport she started just before her fortieth birthday and which saw her pick up five gold medals at the 2013 Commonwealth and Oceania Championship. 
Tina scored a personal best 142.5kg deadlift in a national competition the same year and then switched to refereeing while she recovered from a serious shoulder injury. She's now training for her next competition in December.
"I've always been into strength work. I used to work in a gym when I was younger," she says.
"Unfortunately there's a perception that women shouldn't be doing powerlifting in their late forties, but we've got people powerlifting in their eighties in New Zealand. It helps prevent osteoporosis and improves mental health."
Tina completed her Therapeutic and Sports Massage (Level 5) diploma last year, which inspired her to further her studies with the sport and recreation degree. 
"I found that I had a passion for anatomy and physiology [during the diploma course] and I want to get into teaching – I want to share it!"
 
Find out more about this subject