Paranihi Lovett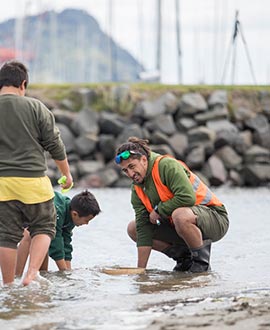 Destined For The Outdoors
Growing up in Tauranga with the ocean and forest on his doorstep, Paranihi Lovett always knew he wanted a career that allowed him to be outside.
So, after previously completing the Certificate of Fitness (Level 4), Paranihi enrolled in the Diploma in Marine Studies.
He says he has always had an interest in the environment and the courses helped him develop skills that set him up for the next part of the journey. He says he particularly liked that the study was a mix of theoretical and practical learning.
"A lot of it was hands-on learning. I learned to SCUBA dive and I really enjoyed the field trips, especially the Whai and Tuhua dive trips – they were magical experiences I won't ever forget."
Paranihi says completing the diploma gave him the confidence to undertake a Bachelor of Science, majoring in Biological Sciences, with the University of Waikato, based at the Toi Ohomai Windermere Campus.
Now, Paranihi is a ranger with the Department of Conservation and says no two days are the same, an element he enjoys about his work.
He says studying with Toi Ohomai set him up with a career that he loves and the possibilities are endless.
"My advice to anyone thinking about what kind of career they want is to do something that makes you happy. If you love being outdoors, this is a course that will lead you in the right direction.
"The amount of people I have met since I finished the course that were once marine students is crazy, like people working at regional councils, Ministry of Primary Industries, NIWA, Kelly Tarltons, orchard field technicians, Scion – the list goes on!"
Find out more about this subject