Matt Griffiths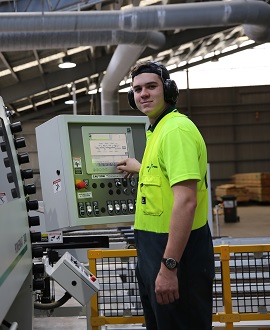 Working With the Big Players
Matt Griffiths believes in working hard and grabbing hold of life's opportunities. 
That's why, when he was given the chance to see what a career in wood manufacturing would look like, he jumped at it and enrolled for the STP course. Matt says he built up momentum by growing his basic skills and knowledge, and then enrolled in the New Zealand Certificate in Solid Wood Manufacturing (Level 3). 
"I loved the introductory course and really loved the way of learning, so I decided to keep at it."
Matt was studying at the Toi Ohomai Waipā Campus, and his dedication and hard work paid off early on, when the Institute approached Hume Pine to do his work placement. He now works for them full time and says that he is loving the job and that he is able to apply what he has learnt. 
Paul McGovern, Wood Manufacturing Tutor at Toi Ohomai, is full of praise for Matt.
"Matt is an example of a great student that started in our STP course, went on to complete his qualification and is now working for one of the big players in industry."
Similarly, Matt says that his tutors have played a big role in his success so far. 
"One of the reasons I decided to continue my studies and enrol for the full time course was the respectful way in which we were treated. 
"The tutors are confident, experienced and relaxed in their way of teaching, they really encouraged independence, which helped us learn by 'doing'," says Matt.
While he is currently enjoying living and working in Rotorua, Matt says that he has aspirations to travel.
"I love travelling and road trips, but am currently a little busy with work. I plan to finish my apprenticeship and then I'll try to get a job in Australia or somewhere exciting."
Luckily for Matt, wood manufacturing is big business, so he'll no doubt have many opportunities to do so!
Find out more about this subject