Karen Hansen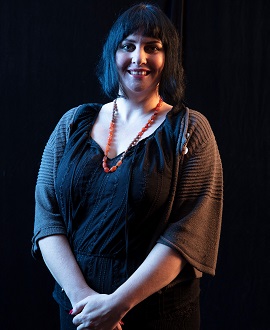 Finding a Wealth of Creative Opportunities
As a practising hobby artist for 15 years, Karen Hansen from Rotorua decided it was time to learn how to make money from her work.
In 2017, aged 34, she enrolled in our New Zealand Certificate in Arts and Design (Level 4) and went on to complete her Bachelor of Creative Technologies, which has enabled her to realise her natural talents and true passion. 
Karen was 16 when the first of her three children was born, and for many years she'd been busy raising a young family. However, with the family mostly grown she could free up more time for herself, and finally break away from her work as a hotel cleaner. 
"Creativity and empowerment are my true passions. I believe that if you're passionate about something, then your true path lies nearby. I hoped to find it through working toward this qualification."
And she did. As well as developing her art practice, Karen says the degree is training her to work professionally within the creative industry, incorporating industry-specific learnings she would not have gained through trial and error.
"I am now operating on a professional level, with many doors and opportunities open. I have creative context and know how to pitch myself and where to look for freelancing opportunities in sculpture, installation and artwork. This degree has refined what was already there, filled the holes in my knowledge, and showed me where to go next and how to take that step.
"I especially enjoyed being able to focus on developing my art practice, and the way it led me deeper into knowing myself and my direction in life – which in itself is a great function of art."
Karen is now an event producer, face paint entertainer, podcaster, vlogger, emerging New Zealand artist and social entrepreneur.
"My work is diverse. I've made a name for myself as Rotorua's most creative face painter, and as an emerging artist I've been exhibiting in many interesting galleries for many wonderful causes. In my work as an event producer, I love to treat each show as a massive art installation and empowerment platform – it's a beautiful way of working with the community."
Her work in vlogging, podcasting and coaching began as a way to share her own journey and has now become an inspirational platform for others, with messages "flooding in" from those who are touched and inspired by her korero. 
"I've helped people realise that they are worthy of self-love, and how to be real; that it's cool to be weird and do your own thing."
Looking ahead, Karen plans to run her own destination art gallery and artist studio, with space for events, workshops, retreats and seminars, and would eventually like to complete a Master's degree in art therapy.
Karen has exhibited at: Penny Haka Gallery, Rotorua; No Shame No Silence, Foxton, where she was also exhibition keynote speaker; Te Haerenga, Journey, Rotorua Arts Village.
Find out more about this subject