Johnny Rapana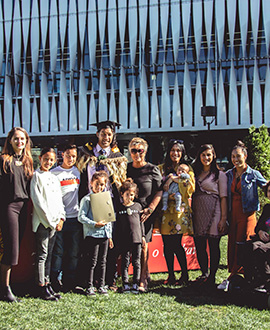 Making an Impact for the Environment and Future Generations
After playing professional rugby in France for 11 years, Johnny Rapana returned home to New Zealand wanting to make an impact.
Proud of his Māori heritage, Johnny says he was determined to help tangata whenua fulfil their responsibilities as kaitiaki, or guardians, of New Zealand's natural resources.
"That's been the whole place since I came home and I always knew I wanted to put myself in a position where I could be an advocate for Māori and help to protect our natural resources, as well as being a kaitiaki. 
"That was the major reason of coming home and I knew I had to get my tickets so education was the key."
He enrolled in the Graduate Diploma in Resource Management at Toi Ohomai in 2015. Johnny says he enjoyed learning from the institute's knowledgeable staff, including Associate Professor Craig Morley and Science Leader Ian Maclean.
"People like Craig and Ian gave us the knowledge in a way that we could connect with and put the science in a way that was understandable but they also used that Mātauranga Māori (Māori understanding). They always brought that into the context of what we were talking about."
After graduating from the Toi Ohomai course, Johnny went on to study a Bachelor of Science at the University of Waikato. He says studying gave him the confidence to take that next step.
And now, he's working at the Ngāti Makino Iwi Authority, doing exactly what he set out to do when he came back to New Zealand.
He says he loves his job because of the approach that is taken by the organisation.
"It's not quite what we learned in tertiary education, it's quite holistic. We need to have an idea about how things are managed in terms of environmental management and you're dealing with the planning side of things, but in saying that, we have our own view and we have those people who have Mātauranga Māori guiding us.
"I could have gone into a mainstream business but I enjoy what I'm doing here. Everything we do is not only thinking about who have gone before us but it also planning for our tamariki (children) and the future generations."
 
Find out more about this subject