Joel Wilson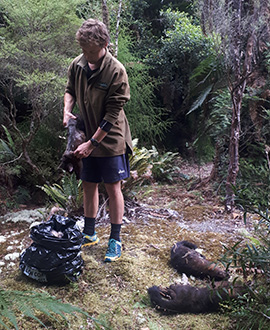 Joel Wilson says hunting possums in remote landscapes is the perfect job for him.
It keeps him fit, he can earn a decent living and he's his own boss. It also allows him the flexibility so that he can take care of his health needs.
In 2013, Joel was diagnosed with auto-immune hepatitis and required a liver transplant. He says he was still at school when he started to feel severely fatigued.
"I was normal and healthy, but in the space of a week I got really sick. I was in hospital, and after about a week they sent me home because they thought I might be getting better. But then I got worse and I ended up being flown to Auckland.
"They found I had auto-immune hepatitis and I had to have a liver transplant. Luckily my cousin was  a match and 36 hours later I had a new liver."
However, the transplant wasn't a cure-all and Joel will have to take medication for the rest of his life to avoid his body rejecting his new liver. As a result, he also has to have regular blood tests.
But he is determined not to let the situation hold him back.
Last year, Joel completed the New Zealand Certificate in Pest Operations (level 3) and despite his health challenges he had an excellent attendance record and was keen to learn as much about pest operations as he could.
He says while he had done a little bit of pest control before, he enjoyed the course because tutor Sean Huntington had so much knowledge to share.
"Sean is an experienced hunter and trapper. He knows a lot about pest control and he was always really encouraging and supportive.
"It was also really cool seeing people who hadn't trapped before getting into it. I really loved doing the course." 
Now, he and a mate have an opportunity to conduct pest control operations in a section of Te Urewera, between Galatea and Whakatāne.
Joel says the course gave him the skills to manage his own possum block and he is looking forward to getting into the bush.
"I still have to have blood tests once every two weeks. The plan is come out when I need blood tests and then go back in. But I can't wait – it keeps me fit and active and I get to walk around some the most beautiful parts of our country and do my bit for conservation – plus I can make a good living."
Find out more about this subject