Glenda Belfield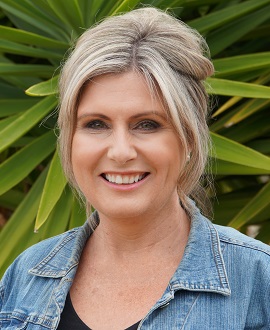 Never too Late to Make an Impact
Glenda Belfield is on track to finish her first degree when she turns fifty and is excited about where her new nursing career will take her.
She has worked full-time all her adult life, mainly in administration, and also served as a long-haul flight attendant for six years. But she's always felt drawn to nursing, and last year it felt like the right time to make a big change.
With her last qualification, sixth form certificate (today's NCEA Level 2), having been earned back into the late 1980s, Glenda had to complete a bridging course to ensure she was fully prepared for the demands of the nursing degree she wanted to pursue.
So she signed up for the 19-week New Zealand Certificate in Study and Career Preparation (Level 4) to get her head back into study mode again. Once she started, she discovered that roughly half her classmates were taking the course specifically to get into nursing, getting their first look at the foundational health science papers the course offers.
However, it was the study skills Glenda learnt during the certificate that proved the most helpful when she moved onto the Bachelor of Nursing afterwards.
"How to structure an essay and how to do referencing - they're certainly used a lot once you start doing a degree! We also did a lot of presentations. That's really helped me in this course (the degree) because I was nervous about public speaking," she says.
Glenda excelled during the level 4 certificate, earning an A-grade average, which gave her the confidence that she was on the right track as she entered her degree. She'd also established new friendships with her certificate classmates, ensuring mutual support as they moved onto the tougher degree tasks.
Glenda is now enjoying a summer break after the 'full-on and quite intense' first year of her degree. She has loved the sense of achievement as she has passed different papers, and the two-week placements she spent at a busy public hospital and an aged care hospital were highlights.
She is happy to keep her options wide open for now, in terms of the area of nursing she might specialise in, and she appreciates the diversity of roles it offers. She's met people who have worked on medical flight services in Australia's outback, and others who have worked in the Pacific Islands.
"Obviously I'll have to build up experience first, but I was looking for a career that I could stick with, that would satisfy me - something more fulfilling," Glenda says.
"I'm a people person, I've always looked out for people and I want to help people. No one in my family has done a degree and I want to prove to myself that I can do it."
 
Find out more about this subject