Darlyn Chutuape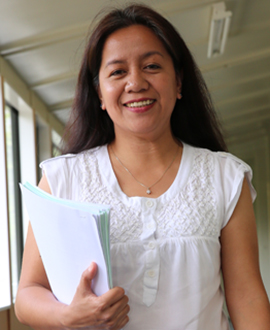 Embracing the Continuous Learning Journey
"Being an international student at Toi Ohomai Institute of Technology offers me an academic and cultural experience I really like.
"When you are in a different country, you learn to rely on the people around you to become better adjusted. For me, I came to New Zealand to experience other cultures, so I didn't just want to hang around with other Filipino students, I wanted to get out there."
Darlyn Chutuape is an ambitious woman. After completing her business degree in the Philippines and getting married, she studied a bachelor in nursing, ranking first in the national exams. With her eyes set on working in the United States, a job teaching research revisions at a Filipino nursing school turned into a 9-year passion, which then led her instead to New Zealand.
"After teaching for nine years, you start to think you know everything. Yet on my first day of class for the Postgraduate Diploma in Applied Professional Studies - Adult Teaching at Toi Ohomai, my teacher told us 'We still have a lot to learn'.
"I'd been teaching adults my whole career, but they were right, there's still so much I don't know. Technical stuff, like how to create a learning programme - that was amazing. I really enjoyed that."
Having already used her perspective to develop a Rotorua-based training programme to help other international students find a good house, understand the national differences in doing assignments and more, Darlyn hopes to smooth the 'culture shock' curve faced by future students.
With many of her fellow classmates on the postgraduate diploma tutors themselves, her work soon had her nominated for a position teaching level 5 courses in the Faculty of Business Management and Legal Studies. Thanks to her prior business degree and teaching experience, the role was hers.
My husband and I wanted to come to Rotorua. We knew if we could balance the outdoors with the daily grind we could do it. I just want to teach and be happy."
That happiness she says comes from being a wife and a mother of two. Two roles she manages to juggle with being a student/tutor by cramming, and knowing that family comes first.
"My supportive husband has been very understanding when I've needed to say 'Okay, I have three assignments to do, nobody bother me, and I lock myself away from the circus.
"That's why I say to every woman who wants to come here 'make sure your husband is ready to do the chores'."
Find out more about this subject